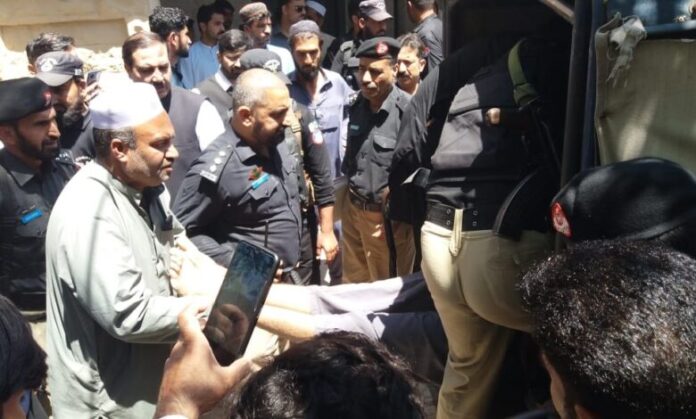 Basit Gilani
A man was shot dead outside the district court in Kohat Kachhari on Monday. The victim was identified as Dawood Khan, a resident of Kurram, who was present on the court premises to pursue a case in the local court of Kohat.
According to police sources, the opposing party and alleged accused Inam from Peshawar shot Dawood Khan dead. The accused tried to escape but was detained by the police during the chase, and the pistol and cartridges used in the incident were recovered from his possession. The police have handed over the detained accused to the investigation team for further investigation.
Also Read: Militants Attack Police Post in Khyber, One Policeman Martyred
A case of murder has been registered against the accused Inamullah in Cantt Police Station on the complaint of Agha Jan, the brother of the deceased. In the preliminary information report filed in Police Station Cantt, the incident of killing occurred because of the previous enmity between the two parties. Police sources revealed that the accused had taken revenge on his brother who was killed by the victim some time ago and was on bail in the murder case.
The body of the victim was shifted to the hospital for post-mortem, and the detained accused was shifted to the Cantt police station. Taking strict notice of the murder incident in the court premises, DPO Kohat Farhan Khan immediately suspended five policemen posted at the entrance of the court and ordered a departmental inquiry against them. SP Operations Kohat Zahid Khan has been appointed as Inquiry Officer to investigate all aspects.
The police have strict security measures at the main gate of Kohat Kachhari to check individuals entering the premises. However, the accused managed to bring a weapon inside despite these measures. The police spokesperson revealed that the accused has given a statement admitting to having tied the pistol to his thigh and carrying it inside the courtroom. Although the police searched him from the chest and waist down, they failed to detect the weapon.
Hits: 13