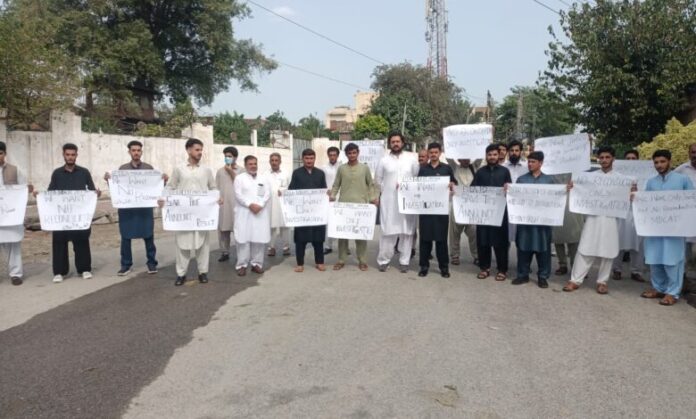 Nabi Jan orakzai
Students and parents of the MDCAT (Medical and Dental College Admission Test) in Khyber Pakhtunkhwa have expressed their dissatisfaction with the decision to re-conduct the test and are demanding action against those responsible.
In protest, students who recently took the MDCAT test and their parents gathered in front of the Peshawar Press Club. Azra Riaz, a student who secured the first position in the recent MDCAT test from the Kohat board, participated in the protest and called for a thorough investigation into the arrested individuals involved in the scandal.
She advocated for a lifetime ban on students who had paid money to the cheating network, ensuring they could never participate in competitive examinations again, thus deterring any future illegal activities.
Also Read: Conversations with the Displaced: Introducing the FATA Stories Project
Azra Riaz highlighted concerns that the parents of students who failed the test might use advanced devices to facilitate cheating during the re-conducted test. Azra Riaz herself scored 198 marks in the MDCAT test and 1027 marks in the FSC from the Kohat board.
Another protester, Adil Bacha, who scored over 185 marks in the MDCAT test, criticized the decision to re-conduct the test, claiming it would benefit individuals involved in cheating, who used Bluetooth devices to copy answers. He alleged that bureaucrats, senior doctors, and the cheating network were behind the Bluetooth scandal. He questioned the integrity of the JIT (Joint Investigation Team) assigned to investigate the scandal, noting that a member's son had failed the test, raising doubts about the JIT's ability to provide justice.
Adil Bacha also mentioned that students who had passed the initial test had filed a petition in court regarding the re-conduct of the test after the results were withheld. They argued that the decision was unfair to students who had succeeded legitimately.
It is important to note that the Peshawar High Court had previously banned the release of MDCAT results and ordered the withholding of results by the MD CAT administration. The court also restrained the Khyber Medical University and the Educational Testing and Evaluation Authority (ETEA) from publishing the recent MDCAT results on their official websites. The case is still ongoing in court.
The MDCAT scandal in Khyber Pakhtunkhwa involved cheating and the use of Bluetooth devices during the test. As a result, 10 individuals, including those behind the Bluetooth cheating network, have been arrested. The entrance test involved over 46,000 candidates for government and private medical and dental colleges in Khyber Pakhtunkhwa.