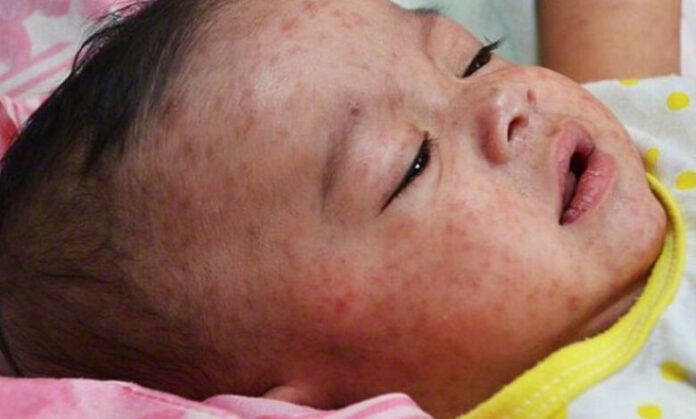 Shahid Khan
Peshawar: The province of Khyber Pakhtunkhwa (KP) is grappling with the rapid spread of measles, resulting in the tragic deaths of 22 children over the past five and a half months. Measles cases have surged across the province, affecting thousands of children in areas such as Peshawar, DI Khan, and Mardan.
According to a report by the Health Department, more than 5,000 children are currently suffering from measles in KP. Ten districts in the province have reported a total of 5,766 suspected cases, out of which 2,616 children have been confirmed to have measles through necessary tests, reveals the report. Regrettably, 22 children have lost their lives due to this infectious disease.
Also Read: Guard Injured in Shooting Incident at Peshawar BRT Corridor
Among the most severely impacted districts, Dera Ismail Khan stands out, with 70% of the total reported cases (462 out of 661 suspected cases) confirmed as measles. DI Khan also witnessed the highest number of fatalities, with 13 children succumbing to the disease.
Charsadda reported 317 confirmed cases out of 463 suspected cases, while Peshawar, Bajaur, and Mardan recorded 226, 166, and 161 measles cases, respectively. The KP Health Department's report also highlights 136 cases in Swabi, 57 cases each in Nowshera, Karak, and Marwat, and 47 cases in Bannu. Additionally, the report confirms 16 cases of rubella, a disease similar to measles, in various districts.
It's important to note that the report from the health department does not include data from patients treated in small private hospitals, clinics, and by private doctors.
In response to the escalating measles cases in KP, an immunization campaign has been initiated in 14 districts. The campaign, aimed at vaccinating 900,000 children against measles, will continue until June 24. The health department's decision to launch this campaign was prompted by the tragic loss of lives caused by the measles outbreak.
Efforts are underway to contain the spread of measles and provide essential vaccinations to protect the health and well-being of children in Khyber Pakhtunkhwa.
Hits: 53