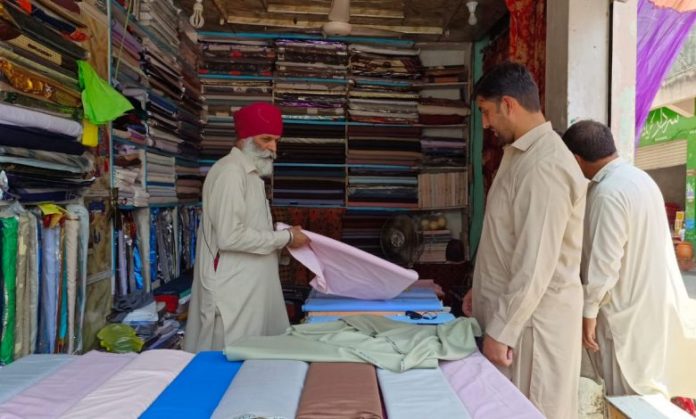 Shahzad Naveed
Sanaat Singh, a local of Pir Baba area of Buner is known as mini-bank and people have been saving their money with him since 1952.
Despite the availability of banks, many a people in Buner district still prefer to keep their money and other valuables for safekeeping with Mr Singh.
Interestingly, Mr Singh has been doing this without a fee.
His father Kundan Lal used to run a clothes business in 1950 and during his business he also built trust and rapport with the community. After his father death's Mr Singh took over the business and for more than 30 years has run his business in a professional manner.
There are about 1200 Sikhs are living in Buner district and majority of them are engaged in business. There are five gurduwars and five crematoriums of the Sikh community in the district and they follow their religious practices without any fear.
However, at least 50 percent of the Buner Sikh population lives in Pir Baba area of the district while rest are living in Dewana Baba, Ghurghushto, Jangai and Changali areas.
Mr Singh said that they were living in Buner for past 122 years after his forefathers shifted there for trade. He said that in the past, Pir Baba was a major bazaar and since then both the Sikh and Muslim communities have peacefully lived with each other.
Mr Singh said that Sikh community of Buner and their Muslim neighbors were living like family members. He said that his community was like family and he will keep serving them his entire life.
"My father used to keep locals money and other valuables and I also continued doing that," he said.
He said that despite availability of banks people entrust him with their saving up ranging to Rs 5 to Rs 500,000.
Mr Singh said that most of the Buner people were working in Saudi Arabia and Malaysia and they sent money to him which he later provides to the family.
He said that mini-bank was setup when proper banks did not existed in the district.
Saleem Buneri, a local said that locals used to deal with Sikhs who were mostly businessmen.
Mr Buneri said that though he was not against banking; however, at times, banks system does not function properly; therefore, he kept his saving with the Mr Singh.
He said that majority of those saving their money with Mr Singh were Muslims
Shah Saud, a resident of Daggar said that Mr Singh enjoyed very good reputation among public, therefore, they were keeping their saving with him.
Hits: 98