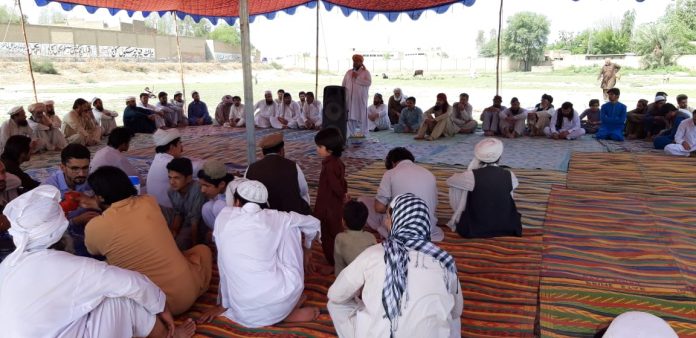 WANA: The members of Mehsud tribe of South Waziristan tribal district have announced to re-launch Yao Maseed (Mehsuds are one) sit-in from January 27 over apathy of the administration towards resolution of long standing problems.
The Mehsud tribesmen said the houses of tribesmen were badly damaged in military operation Rah-e-Nijat 10 years ago, but the administration is not showing any interest in rehabilitation and reconstruction work.
The tribesmen had previously staged sit-in on January 27 last year at FC Ground in Tank district.
There were three main demands during the last year's sit-in; fresh survey of those areas where first survey was not conducted properly; sending of pending forms to the steering committee, and initiation of survey in the leftover areas.
When the government announced military operation in the areas inhibited by Mehsud tribe in South Waziristan, the local population was asked to vacate the area on a short notice. It was an extremely difficult and painful thing for Mehsud tribesmen to leave their areas, but they did not hesitate and immediately vacated the whole area in larger national interest and for peace and security in the region. They left behind all their belongings and lived the life of displacement for many years.
The houses and business centres of local tribesmen were also badly damaged during the military operation during which the militants were driven out from the area. The left out buildings were damaged due to the impact of climate change.
After the operation, the government announced a package of the affected people under which the owners of completely damaged houses were to get Rs400,000 each, while the owners of partially damaged houses were to get Rs160,000 each. Survey teams comprising government officials and local tribesmen were formed to assess damages and compensate the affected tribal families. However, the whole process was marred by its extreme slow pace, lack of proper attention and alleged corruption by the local administration.
The Meshud tribespeople waited for five to six years for the survey to complete and payment of compensation, but it did not happen and finally they ran out of patience and they staged a sit-in against the administration.
Hits: 26