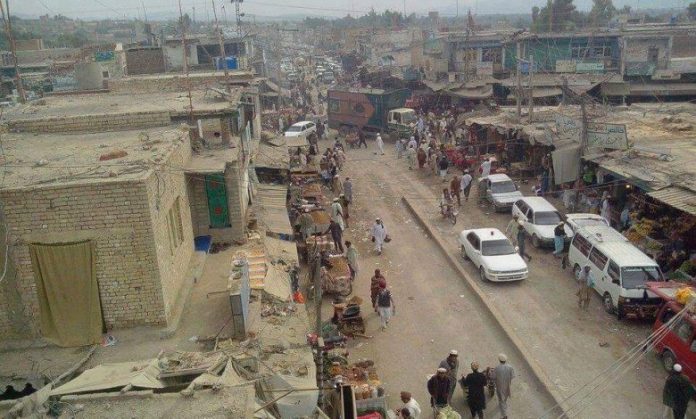 Muzamil Khan Dawar
MIR ALI: Merged tribal districts experienced huge trouble since the beginning of Afghan war due to law and order issues and terrorism. Land disputes added to the trouble and there was lawlessness from Khyber to Waziristan.
The situation of trade and jobs in Mir Ali Bazaar of North Waziristan was comparatively better. There were about 7,000 shops in Mir Ali Bazaar and people from all parts of the country used to come here for trade. Despite law and order issues, trade activities in the bazaar were on peak and electricity was also available, a facility which was non-existent in many other parts of erstwhile Fata.
The situation then took a turn for the worst and the government announced military operation on June 14, 2014 due to which a large number of people were displaced from their homes and many others have to leave their businesses and lived as temporarily displaced persons (TDPs) in different parts of the country for two years.
The government then started rehabilitation of TDPs, but everything was destroyed. The whole Mir Ali Bazaar was turned into debris during the operation and electricity system was also destroyed. The local traders started resurrecting their businesses on their own. During the last several years, 4,000 shops could be reconstructed in Mir Ali Bazaar and still a lot of effort is required to reach to the previous level. Reconstruction is continuing and 3,700 shop owners have received compensation in the range of Rs300,000 to Rs1.4 million.
Trade Union leader Shaukat Dawar said while talking to TNN that the compensation provided by the government to traders is too low to resurrect their businesses. He said the compensation was provided in the head of damages to goods, while compensation for damaged property has not been paid yet. He said traders have staged many protests for compensation, but the government has not responded positively. He demanded the government to pay full compensation to all traders without further delay.
Laik Zaman, a local trader, said trade activities were on peak before Operation Zarb-e-Azb, but now its volume has fallen considerably. He said the government has failed to address promises made with traders. He demanded the government to release funds for restoration of old glory of Mir Ali Bazaar.
Hits: 44