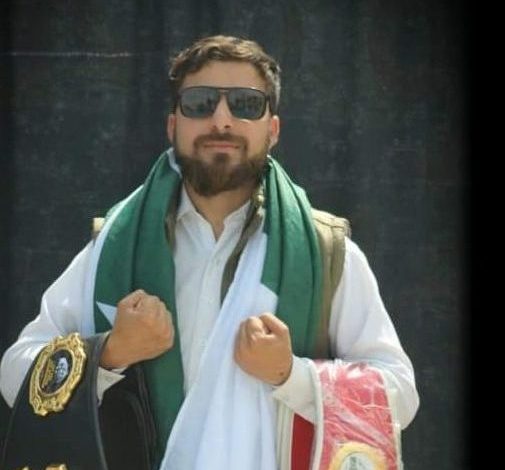 Kainat Ali
MARDAN: Mixed martial arts (MMA) player from Mardan Junaid Khan is dreaming to represent Pakistan on international level, but lack of facilities and resources are coming in his way.
The 21-year-old talented player knocked out his Afghan rival in just 47 seconds in a match in Peshawar recently. He said he dreams of representing Pakistan in international competitions and make name for the country.
While talking to TNN, Junaid Khan said he is playing martial arts since 2013. He said it is his main aspiration of life to become an international fighter, but it seems he will not be able to fulfil his dream owing to lack of resources.
Junaid said he was recently challenged by an Afghan fighter, and he needed proper training for the fight, but he did not have enough resources for that. He said he did not lose courage and eventually sold his mobile phone to get training. He said he is facing financial problems due to which he cannot get quality training which is necessary to participate in big games.
Junaid said he is not getting enough support from family to fulfil his dream, and particularly, his parents don't like MMA because they think that it is a brutal game. The talented player said there is a lot sports talent in Khyber Pakhtunkhwa, but this talent is wasted most of times due to lack of resources. He said if proper training is provided to players, then they have capability to bring medals for Pakistan in international competitions.
Along with training, Junaid is also running an academy in which he is imparting training to people from different age groups. He said he wants to bring forth all the talent in the sport in Mardan to the fore. He said orphan children get free of cost training at his academy. He said people of the village are happy with him that he is providing useful physical training to children who were previously wasting their time on mobile phone games.
Junaid said he don't posses modern equipment in his academy. He called upon the government to provide equipment to his academy so that he could train the local youth on modern lines and promote the sport.
Hits: 15