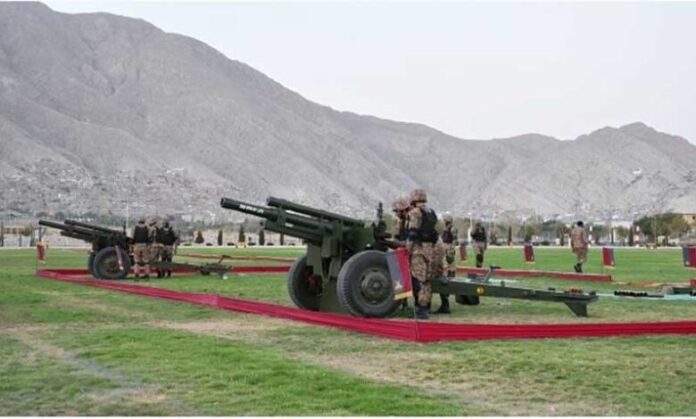 On the completion of 83 years since the passing of the Pakistan Resolution on March 23, 1940, 'Pakistan Day' is being celebrated with great zeal and enthusiasm across the country with the determination to ensure the development, prosperity, and vigorous defense of the country.
The day started off with a 31-gun salute in the federal capital and while 21-gun salute in the provincial capitals, according to Radio Pakistan.
The changing of the guards' ceremony was held at the mausoleums of Quaid-e-Azam Mohammad Ali Jinnah and Allama Iqbal in Karachi and Lahore respectively.
However, the grand parade of the armed forces scheduled to be held at the President's House today has been postponed till Saturday.
The decision to hold the traditional parade on a limited scale was made under the austerity policy.
Pakistan Air Force has said in its special message that on the occasion of Pledge of Allegiance Day, the Shaheens of Pakistan Air Force saluted the patriotism of the entire Pakistani nation and reiterated the commitment that every soldier of Pakistan Air Force is always ready to protect the defense, security, and sovereignty of Pakistan and will not hesitate to make any sacrifice for the integrity of the country.
The resolution passed in Lahore on March 23, 1940, later proved to be the forerunner of independence.
The idea of a separate state for Muslims was presented in a meeting of the All Pakistan Muslim League Sindh in 1938; accepted by the majority of the participants, and later AK Fazlul Haq proposed its implementation.
The resolution presented at Minto Park, Lahore on 23 March 1940 stated that until the Muslims got an independent state they would not be bound to obey any law of India.
Pakistan Day reminds the nation that the foundation of this new country was laid on this day, which was then completed on August 14, 1947.
The prime minister, president, and other leaders have also conveyed their messages and congratulated the nation.
Hits: 1