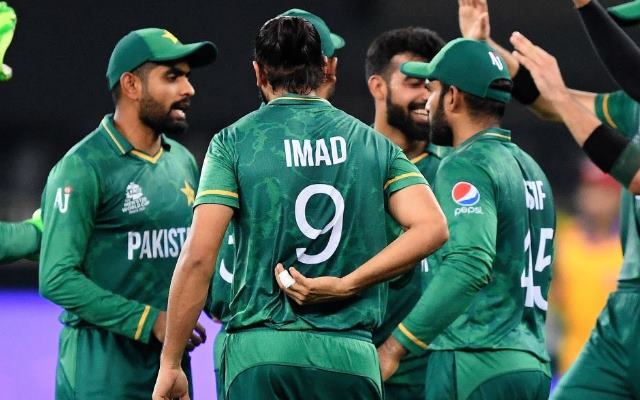 The Pakistan Cricket Board (PCB) has announced national squads for the T20 International (T20I) and One-Day International (ODI) series against New Zealand, which is also subjected to speculations as usual; however, the chief selector of the team, Haroon Rashid, made it clear that the selection was done in consultation with Captain Babar Azam.
Haroon Rasheed, while talking to the media in Lahore, said that the three mega events Asia Cup, World Cup, and T20 World Cup are to be held next year, 'accordingly, we are trying to make a combination,' he added.
The national team against New Zealand was announced yesterday. Top players have returned to the squad after resting against Afghanistan last month. Shaheen Shah Afridi will play international cricket for the first time after the World Cup.
Babar Azam remains as captain and Shadab Khan as vice-captain. Ehsanullah, Zaman Khan, and Saeem Ayub are included in the T20 squad while Imad Wasim also managed to retain his place in the T20 squad.
Apart from this, the T20 squad includes Faheem Ashraf, Fakhar Zaman, Haris Rauf, Iftikhar Ahmed, Muhammad Haris, Muhammad Nawaz, Muhammad Rizwan, Naseem Shah, Saeem Ayub, Shaheen Shah Afridi, and Shan Masood.
Babar Azam captain, Shadab Khan vice captain, Abdullah Shafiq, Fakhar Zaman, Haris Rauf, Haris Sohail, Ehsanullah, Imamul Haq, Muhammad Nawaz, Muhammad Rizwan, Muhammad Wasim Jr., Naseem Shah, Salman Ali Agha, Shaheen Shah in the ODI squad. Afridi, Shan Masood, and Osama Mir are included.
Apart from this, the reserve players include Abbas Afridi, Abrar Ahmed, and Tayyab Tahir.
On the selection of middle-order batsman Haris Sohail in the ODI team, Haroon Rashid said that he is an exceptional left-hander batsman, Haris Sohail can prove vital in Asian conditions, if Haris Sohail stays in form and fit, it will help the middle order.
He further said that Babar Azam is our captain, and every player was selected after due consultation and discussion with him, there were two or three meetings with Babar, there is no disagreement on the selection, and everyone is on the same page, now it depends on Azam's discretion who he wants to play and who to rest.
Regarding Azam Khan, the aggressive batsman who was dropped from the series against New Zealand, Haroon Rashid said that Azam himself has to see what his weakness is and work on it to come back. Azam has had a hard time against spinners. It will have to be worked on.
He said that if a player is dropped, it does not mean that he will not come back, Haris Sohail and Azam Khan cannot be compared.
Haroon Rashid said that we have 8 ODI matches before the Asia Cup, and we have to see a lot in these 8 ODI matches, we have played very few ODI matches.
Haroon Rasheed said that Shadab Khan has played very little cricket, and he has to be given a chance, it will be a good match against New Zealand. After all, no team goes into the field to lose.
Series schedule
The first T20 between Pakistan and New Zealand will be played on April 14 in Lahore, while the second T20 will be played on April 15 and the third on April 17 in Lahore.
The fourth and fifth T20I will be played on April 20 and 24 in Rawalpindi.
This will be followed by a five-match ODI series, with the first and second ODIs to be played on April 27 and 29 in Rawalpindi.
The third, fourth, and fifth ODIs will be played in Karachi on May 3, 5, and 7 respectively.
Hits: 5