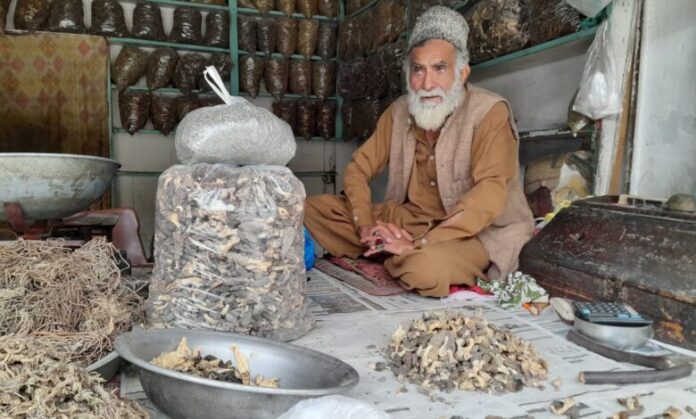 Zahid Jan Dirvi
Recent rains in Upper Dir have led to an increase in the production of the natural mushroom 'Gucchi' in the hilly areas, which has provided employment opportunities for people involved in the mushroom business.
Khaista Gul, hailing from the Jarjoray area of Upper Dir, collects mushrooms in the hilly areas and sells them in the market. Gul, one of the mushroom hunters, mentioned to TNN that mushrooms have been an important source of livelihood for local people for many years.
They, he said, are not only a source of good income and profit but also used to fuel the hearths of hundreds of families in the area, adding that the process of finding mushrooms is difficult and often associated with luck, and the harder one works, the more they get paid. Children are also accompanied by mushroom hunters in search of mushrooms, which is considered a sign of good luck, he furthered.
Also Read: Two children die after consuming poisonous mushrooms in Lower Dir
Dilaram Khan has been involved in the natural mushroom business for the past 40 years. He said that this year, mushrooms are expected to sell for 25 to 27 thousand rupees per kg in the market. However, the business is risky, and when the price of mushrooms decreases in the market, it can result in a loss of lakhs of rupees, he added.
Mushroom production has increased this year after the rains, and the hunters buy them from people for 24 to 26 thousand rupees per kg, providing a source of livelihood not only for them but also for the workers who search for them, he furthered.
Dilaram said mushrooms are a delicate business, and it takes time to clean them after collection. They are exported to markets in other European countries, including France, England, America, and Iran, as well as within Pakistan. Besides being used as food, mushrooms are also used in medicine.
According to medical experts, the use of mushrooms in medicine dates back centuries in many parts of the world, including Asia. They are more common in the northern and mountainous regions of Pakistan, Afghanistan, India, and Sri Lanka. Medical experts use them in various medicines, including cancer treatment, as an immunity booster, for liver issues, and as an antibacterial agent.
Dr. Hanifullah explained that mushrooms were widely used in Greece in ancient times, and medical researchers and scientists used them in medicine for various diseases. He stated that mushrooms are called "land food," found naturally in forests. Thus, their importance and usefulness cannot be denied. While many countries, including China, South America, and Siberia, cultivate mushrooms artificially, there is a significant difference between natural and artificial mushrooms.
Hits: 13