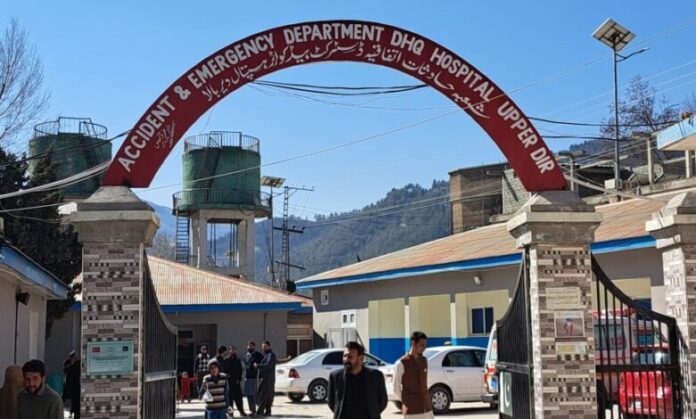 Nasarzada
Ghaniur Rehman, a resident of Atan Dara in Dir Upper, was waiting outside the Labour Ward of the District Headquarters Hospital, Dir Upper, as his 40-year-old wife was expecting to deliver. He was disappointed, angry, and overcome with grief when he was told to take his wife to the District Headquarters Hospital in Timergarah, Dir Lower district, as there was no lady doctor available.
The distraught Rehman had no option but to take his wife to the hospital, which was some 70 kilometers away from his home. "Why did they keep us waiting for hours when there was no lady doctor in the hospital?" he asked Tribal News Network. He rented an ambulance and rushed his wife to the hospital in Timergarah.
Rahman is not the only person who has suffered. Thousands of people have suffered and will suffer due to the unavailability of lady doctors in DHQ Dir Upper. Helpless patients and their attendants are forced to either visit Dir Lower, Swat or Peshawar on a daily basis.
TNN found that the post of lady doctor has been vacant for seven years. The demand to fill it has, so far, fallen on deaf ears. Rising inflation has been adding to the miseries of the people.
MS Sahibzada Imtiaz of DHQ hospital told TNN that there were three WMO doctors in the hospital who could only handle normal deliveries. "When a patient's condition is critical, we refer them to Timargarh Hospital," he said.
He also mentioned that the hospital has a total of 18 vacancies for specialist doctors, out of which only five specialist doctors have been working, while 13 remain vacant.
Another doctor, Imtiaz Ahmad, said that out of the total 112 doctors, only 32 are appointed while 80 posts have been vacant. Around 1000 patients visit the hospital's outpatient departments daily, but due to the lack of doctors like cardiologists and gynecologists, most of them do not receive even basic care.
The DHQ hospital has been catering to a need of over 0.14 million population, while there are five large Category D and regional health centers in Barawal, Ward, and Patrak. However, lack of gynecologists and other facilities make them useless for locals.
District Health Officer Khalid claimed that there was a rise in maternal and infant mortalities. "Lack of proper care, medicines, and treatment may cause serious health complications for mothers and their newborn babies," he commented.
He linked the lack of facilities at the hospital to its proximity to the Afghan border. "Most of the doctors have opened clinics in cities and are hesitant to perform duty in the district," he said.
He lamented that doctors who did MBBS on a quota allocated for Dir Upper at medical colleges, and hailed from the district, were not willing to serve their people and preferred to stay in large cities like Peshawar, Mingora, and Mardan.
Dr. Khalid urged the provincial government and Health Department to make it mandatory for students who get admission on a quota allocated for the district by submitting an undertaking to serve their people for five years after completing specialization in their fields.
The government has assigned Rescue 1122 the responsibility of ferrying patients to hospitals outside Dir Upper. Talking to TNN, Rescue 1122 Emergency Officer Shah Wali Khan said his department has shifted 1115 patients from the DHQ hospital to different hospitals in the province during the last six months, including over 300 labour patients.
He said Rescue 1122 used to have three female nurses who would take care of delivering mothers while shifting them to hospitals. They have resolved many cases, however, they left their jobs as they were not given the accommodation facilities. He said in case a patient condition worsens, the rule is to take her to nearest hospital on Dir-Peshawar road.
Hits: 9