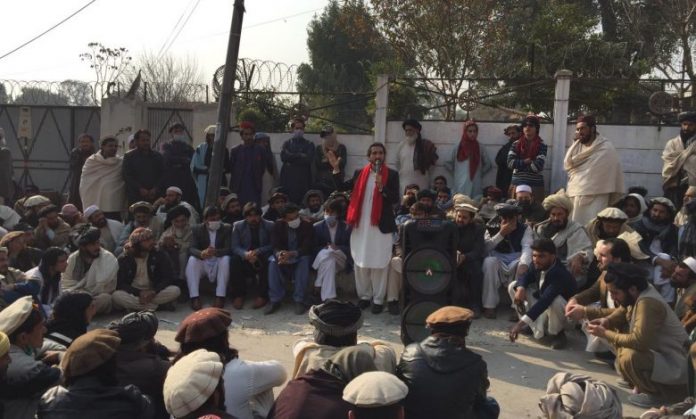 PESHAWAR: The temporarily displaced persons (TDPs) of North Waziristan tribal district continued their protest in favour of their demands for third consecutive day outside the Peshawar Press Club on Saturday.
On Friday, the protest was also attended by former Member of National Assembly Ayesha Gulalai who criticised the government for what she termed its failure to give due rights to people of merged tribal districts. She said the people of merged districts always offered huge sacrifices for the country and they will not hesitate from more sacrifices, but in return the government has stopped their ration, which is a matter of embarrassment. She alleged that the Provincial Disaster Management Authority (PDMA) has usurped the rights of the people of tribal districts.
The protesters, under the tribal traditions, staged protest while dancing on the drumbeats. They said the PDMA has stopped the monthly ration to the homeless families of North Waziristan, which must be restored immediately.
The protesters said the TDPs have also not received the compensation amount for the last four months. They said the government should open Ghulam Khan and Angoor Adda borders for the TDPs of North Waziristan who are still stranded in Afghanistan. They said the government should make all arrangements for bringing back such TDPs in a respectable manner.
The members of Mehsud tribe of South Waziristan tribal district area also holding protests over apathy of the administration towards resolution of their long standing problems.
The Mehsud tribesmen say the houses of tribesmen were badly damaged in military operation Rah-e-Nijat 10 years ago, but the administration is not showing any interest in rehabilitation and reconstruction work.
There are three main demands during the Mehsud affectees; fresh survey of those areas where first survey was not conducted properly; sending of pending forms to the steering committee, and initiation of survey in the leftover areas.
The Meshud tribespeople say they waited for five to six years for the survey of damage assessment to complete and payment of compensation, but it did not happen and finally they ran out of patience and they started staging protests and sit-ins against the administration.
Hits: 25