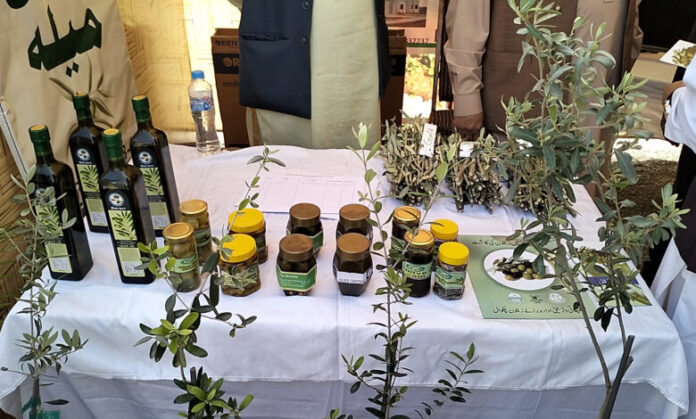 Rifaqatullah Razarwal
The government organized an exhibition, Pakistan's first-ever olive gala festival, at Tarnab, Peshawar to create awareness about the growth and production of edible oil, which showcased different types of olive oil, sweet jams, and pickles.
Agricultural experts say, the soil of Khyber Pakhtunkhwa and Balochistan is suitable for olive production, where one olive tree yields about 4 liters of oil with a total value of up to 10,000 rupees.
Dr. Abdul Bari, the Director General of the Agricultural Research Institute, Tarnab, said that the main purpose of the olive gala is to aware the farmers of the economic benefits of olives and the value addition of its fruits to make various food ingredients.
Pakistan imports up to 4.5 million tons of edible oil every year to meet its needs, in which we produce only 7.45 thousand tons, which is 8% of the total demand, the director general said.
Talking to TNN, Dr. Abdul Bari said that olive trees have been cultivated on only 11,000 acres of land in Pakistan, which produces a total of 200,000 tons of fruit every year while yielding 20,000 kg of oil.
"The price of olive per kg in the market is up to 2500 rupees, while a tree starts bearing fruit after three to four years, from which at least four kg of oil can be obtained, if the farmers focus on olive cultivation, they can be financially stable."
Ahmad Buzdar, a farmer from Musa Khel district of Balochistan, was also present at the exhibition. Speaking to TNN, he said that his economic conditions improved since he started producing olive oil.
He said, "I have planted about 2,000 plants on 15 acres of land, of which 11,00 plants yielded up to 36,00 kg of oil this year, as compared to the 4000 liters last year, production has declined due to recent floods but still made a substantial profit this year, I think it changed my life."
In Khyber Pakhtunkhwa, the President of Progressive Farmer of KP, Salahuddin, has also planted 7,000 saplings on 43 acres of land in the Manki Sharif area of Nowshera, and he has obtained 4,700 liters of oil therefrom.
According to the data provided by the experts, the crop production of Salahuddin is low, but they say that the crop production is limited to irrigation and olive varieties. "The yields can be improved if you cultivate olives of a better breed and then improve the irrigation system."
Dr. Azmat Ali Awan, director of the PSDP project by the federal government to develop agriculture, said that the olive cultivation project includes the provinces of Punjab, Sindh, Gilgit-Baltistan, Khyber-Pakhtunkhwa, and Balochistan.
He said that this is a three-year project and this year the fair has been organized at Tarnab to make farmers aware of its economic and financial benefits as most of our farmers are unaware of olive cultivation.
Azmat Ali said that under this project, we first train the aspiring farmers and then install crushing machines at the district level for their convenience, which extracts the oil from the fruits for free.
He said that under PSDP, the production of edible oil will reach 1010920 tons in the next five years and will meet the target of 4007930 tons in the next 10 years which will help meeting our needs.
Hits: 49