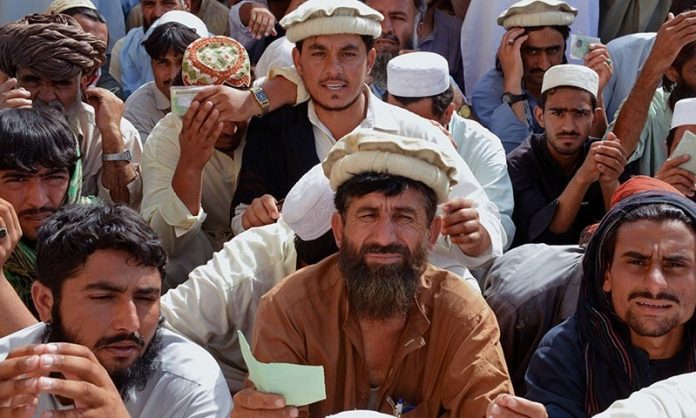 PESHAWAR: Under the Citizens Losses Compensation Program (CLCP), the district administration of Khyber tribal district on Wednesday distributed compensation cheques worth Rs61.84 million among 277 owners of damaged houses in Sepah area of Bara tehsil.
Deputy Commissioner Khyber Mansoor Arshad, Frontier Corps (FC) officers, Additional Deputy Commissioner Noor Wali Khan, Additional Deputy Commissioner (Relief) Naveed Akbar, Assistant Commissioner Bara Nek Muhammad and CLCP coordinator attended the ceremony.
The deputy commissioner distributed cheques among 277 families of Sepah tribe whose houses were damaged in the wave of militancy and subsequent military operations. Mansoor Arshad said the district administration has so far disbursed Rs3,028.08 million under CLCP program among owners of 5,685 houses which were completely destroyed and 4,713 partially damaged houses as compensation amount.
The deputy commissioner informed that the district administration was conducting a survey to compile a data of remaining damaged houses in order to give compensation amount to owners. As per directives of the government, he said, the district administration would provide all facilities to people at their doorstep and compensation would be given to owners of the damaged houses in militancy. He said no deserving people would remain deprived of compensation.
Those who received compensation cheques thanked the government and hoped that the remaining people would also be compensated soon.
About CLCP
The Government of Pakistan has launched CLCP as an important component of the Sustainable Return and Rehabilitation Strategy (FSRRS) in merged districts.
The summary to redesign housing program as counter insurgency initiative was approved on 10 December 2015 and submitted to the Prime Minister of Pakistan through SAFRON (Ministry of States and Frontier Regions) for approval.
According to website of Rehabilitation and Reconstruction Unit, the programme aims to compensate the temporary displaced persons (TDPs) of merged districts whose private houses were affected due to the military operation by providing funds to aid in the reconstruction and rehabilitation of their houses. The programme aims to provide funds for reconstruction/rehabilitation and repair of houses in two categories.
The owners of fully damaged houses get Rs400,000 under the program, while owners of partially damaged houses get Rs160,000. The CLCP is aimed for North Waziristan, South Waziristan, Khyber, Kurram and Orakzai tribal districts. The programme has various phases starting from the identification and verification of the people eligible for compensation through surveys held in the respective agencies till the disbursement of funds to the beneficiaries.
Hits: 46