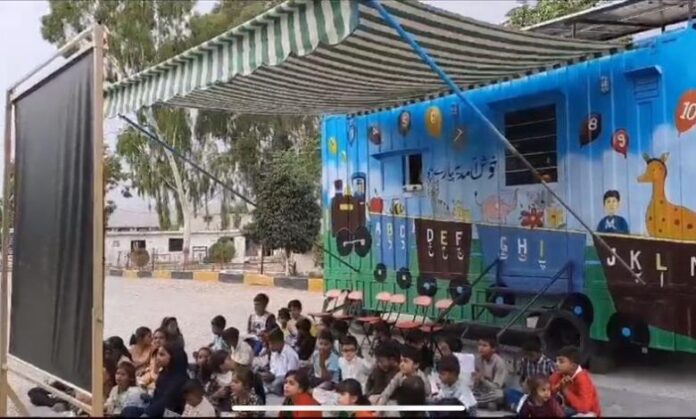 In the Miranshah region of North Waziristan, a unique and contemporary mobile school has been established with the support of the Pakistan Army to advance education.
The primary objective of this mobile school is to offer educational opportunities in areas where conventional schools are lacking. This mobile school is furnished with state-of-the-art facilities, including shaded areas, quiet seating spaces, and projector screens designed for both boys and girls.
Also Read: End of Customs Duty Exemption in Malakand Division, but NCP Vehicle Impounding Delayed
The Mobile School is a groundbreaking creation in the realm of mobile libraries and infotainment on the go. It not only guarantees access to engaging books but also incorporates smart boards and televisions. Furthermore, the school includes a play area and a library, providing recreational options for boys and girls.
This mobile school also features a wide array of children's storybooks, toys, various games, and a movie system complete with video gummies. Children have shown significant enthusiasm for the mobile school, relishing the diverse games and movies available.
Local leaders have commended this commendable initiative by the Pakistan Army, considering it another significant milestone in the region's development and progress.