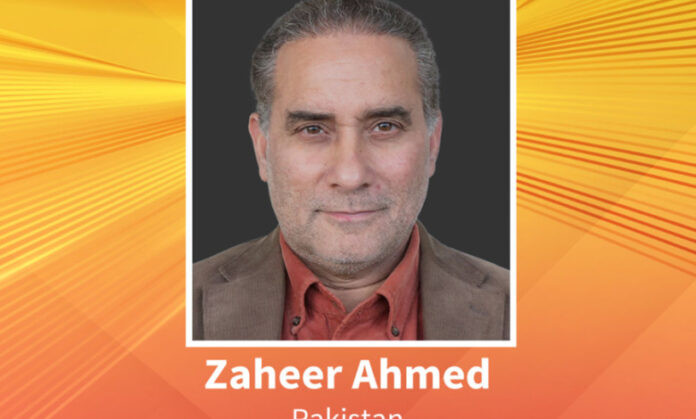 Washington Dc:
The US State Department has recently published its annual report on human trafficking, shedding light on this global issue. During a prestigious ceremony held in Washington, DC on June 15, United States Secretary of State Anthony Blinken honored several individuals for their outstanding contributions in combating human trafficking, including Pakistani law enforcement officer Zaheer Ahmad.
Zaheer Ahmad was presented with the prestigious Trafficking in Persons (TIP) Hero Award in recognition of his systematic efforts to prevent human trafficking. This award aims to raise international awareness about human trafficking and honor individuals who have made significant contributions to combating this crime.
Also Read: Mysterious Deaths in Buner raise alcohol-related Concerns
Zaheer Ahmad's remarkable achievements include effectively implementing the reforms introduced by the Government of Pakistan to combat human trafficking, and playing a leadership role in capacity-building and training initiatives. Thanks to these collective efforts, Pakistan has moved up from the second-ranked watch list to the second-ranked country in the 2022 International Human Trafficking Rankings.
It is important to note that Zaheer Ahmad has served as the former Director of the Anti-Human Trafficking Unit of the Federal Investigation Agency (FIA) in Pakistan. Throughout his tenure, he has been actively involved in combating all forms of human trafficking within the country. He has tirelessly worked towards raising awareness among Pakistanis about the dangers associated with this international problem.
His unwavering commitment and innovative initiatives have resulted in improved cooperation between law enforcement agencies and civil society in Pakistan, leading to enhanced identification of human trafficking cases and victims.
As the Head of the Anti-Human Trafficking Unit at FIA, Zaheer Ahmad spearheaded various activities aimed at providing training to law enforcement agencies, the Department of Social Welfare, and other partners to prevent, identify, and support victims of human trafficking.
He also established strategic partnerships with local and international awareness groups, strengthening the united front against trafficking. Through his relentless efforts, significant policy-level reforms were achieved, and the legal framework for human trafficking in Pakistan was strengthened.
The commendable services rendered by Zaheer Ahmad and other Pakistani officials have further propelled Pakistan to sign the UN Protocol on Prevention, Suppression, and Punishment of Human Trafficking in 2022. This signifies the country's commitment to combating human trafficking on an international scale.
Following the ceremony in Washington, Zaheer Ahmad expressed his gratitude to his colleagues and emphasized that this award is a testament to their collective efforts. He reaffirmed his determination to continue fighting alongside his counterparts to eradicate human trafficking worldwide.
Hits: 15