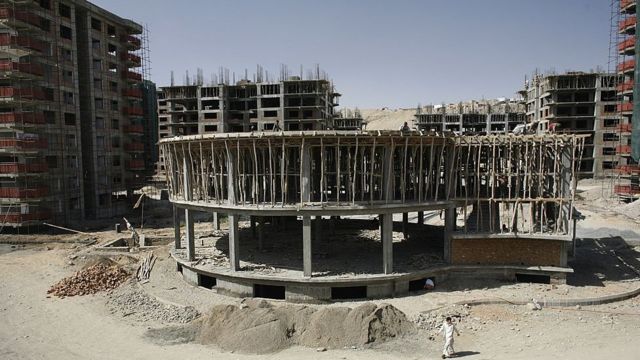 Humaira Aleem
Traditional construction methods often face numerous challenges. With the world moving towards automation, the construction industry is looking towards adopting various technologies. One such technology that has emerged as a potential solution is additive manufacturing in construction, also known as 3D concrete printing. Many developed countries have shifted to this technology, as it reduces construction costs by 40-50% compared to traditional methods.
Pakistan is a developing country, and its construction industry is expected to expand by 92%. However, the industry faces numerous challenges, and one of the biggest issues is a housing shortage. It is estimated that there is currently a shortage of 10 million houses in Pakistan, which is expected to increase to 13 million by 2025.
Also Read: Mushroom growth of housing societies in KP degrades agricultural land
To address this issue, civil engineers from the Structure and Survey Department of the National University of Science and Technology (NUST) in Islamabad have developed Pakistan's first 3D concrete eco-friendly printer.
Raja Dilawar Riaz, a student of NUST University and one of the researchers who built this printer, explained that it can reduce construction costs by 40-50%. The technology doesn't require the hiring of labor, and work can continue continuously with this printer.
This printer allows for printing construction materials in different shapes by adding cement and other materials, controlled by a digital control system. It can be used to make pots for plants, bricks, and pillars used in construction.
This 3D concrete printer was exhibited for the first time at the International Housing Expo under the theme of 'Low-Cost Modern Housing Technology,' where it received a lot of encouragement and several offers for the project.
The total cost of making this printer was around eight hundred thousand rupees, and it took about a year to prepare. Big construction companies in Pakistan contacted the researchers after seeing the machine at the exhibition and demanded to have similar machines.
The frame size of this 3D concrete printer is 1.2m x 1.2m x 1m, and it can print a volume of 1mx1mx0.5. It is capable of printing architectural and structural components of various shapes. A 3D CAD model is created, and then the computer software and the model are cut as needed. The mach3 controller in the printer reads the G-Code file and extrudes the concrete layer.
This technology is expected to revolutionize construction in Pakistan, with its potential for sustainable construction and innovative research.
It offers many advantages, such as promising procedures and production, safe construction work, beauty, a balance between form and function, design flexibility, topological optimization, increased productivity, reduced labor costs, greater research potential, high technology-oriented jobs, multi-functionality of structural/architectural elements, investment, large-scale housing schemes, and energy-saving.
Hits: 17