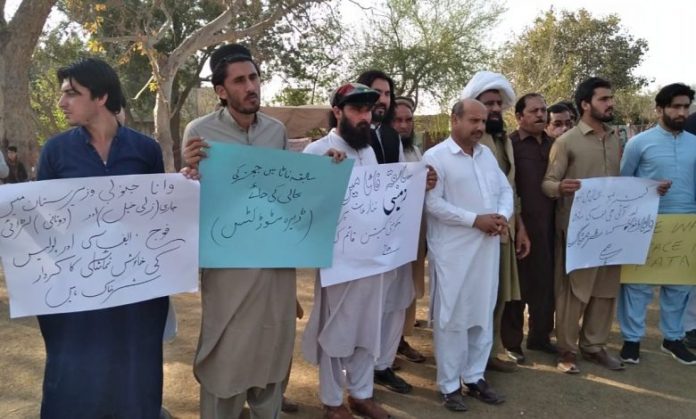 DERA ISMAIL KHAN: A peace rally was organised in Dera Ismail Khan on Tuesday which urged the Dotani and Zalikhel tribes in South Waziristan district to end clashes and find a solution of the land dispute through a peaceful manner.
The rally commenced from Haq Nawaz Park and ended at Topanwala Chowk which was attended by activists of different political parties, social activists, traders, lawyers, students and other people.
Speakers during the rally urged the government to intervene and resolve the long standing dispute through the old land demarcation formula. They said several people have lost their lives and many others have been injured in the ongoing clashes between the rival tribes, while the inaction of the government has raised questions about the effectiveness of the police and administrative system. They urged the government to bring the elders from both sides to negotiations to avoid further bloodshed.
The speakers said the situation is very tense in South Waziristan due to ongoing clashes and many people have vacated their houses over fears of being caught in the cross fire. They said further damages are feared if the dispute was not resolved.
According to reports received from the area two days ago, fierce clashes between Dotani and Zalikhel tribes over land dispute were continuing in South Waziristan in which at least six people had died and several others were injured.
Hundreds of armed men from both sides had taken positions on mountain tops and homes and they were attacking the positions of rival tribesmen with small weapons. Several houses were also been reportedly set on fire in Sher Kanai area.
The activists of different political parties and groups in South Waziristan including Awami National Party (ANP), Jamaat-e-Islami (JI), Pakistan People's Party (PPP), Jamiat Ulema-e-Islam, Pakhtun Tahaffuz Movement (PTM) and others in an emergency press conference alleged that the government and district administration were responsible for the clashes in Karkanra area as they have been unable to resolve the dispute according to available documents.
The political activists said parties to dispute had presented the ownership documents of the time when British ruled this part of the country. They said the administration refused to recognize the documents and the dispute remains unresolved.
Hits: 0