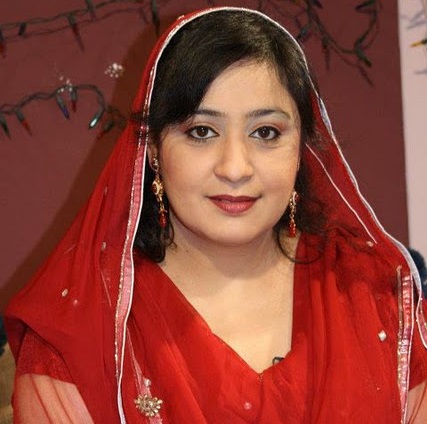 Khalida Niaz
PESHAWAR: Everyone likes to spend time with women associated with showbiz and watch them on TV, but when it comes to honouring them with marriage, then the perception changes.
This was stated by Dr Sarwat Ali, also known as Begum Janana, a popular face in Pashto showbiz industry. Dr Sarwat Ali says people in Pakhtun society are always reluctant to marry women from showbiz.
Dr Sarwat belongs to Bannu, while her husband hails from Kurram tribal district. She also has a daughter and she is well-educated with a Master's degree in Urdu and also completed homeopathic course.
In a special interview with TNN, Dr Sarwat said she made her debut in showbiz in 1995 from a Hindko drama, but she got a lot of fame from Pashto drama 'Janan' in which she played the role of Begum Janana and many people still call her with this name. She has acted in a lot of Pashto, Hindko and Urdu dramas and her work was greatly appreciated.
Dramas have lost quality
Sarwat Ali says facilities were limited when she joined showbiz, but actors were very hard-working and liked their work through which they brought life to their characters in dramas. She says people have become lethargic with increase in facilities. She believes that the quality of dramas is on decline due to lack of professionalism.
"Many members of my family got angry when I came to showbiz and they advised me to leave the field as it is not good for women," she said, adding that the field is not bad, rather some negative people have damaged its image.
Difficulties after joining showbiz
Sarwat Ali says she was only supported by her mother when she came to showbiz, and everyone else was against her.
She says she selected showbiz as a field. She says she was the only one from her family in showbiz that's why her difficulties were even greater, but she did not care and continued moving forward.
To a question, Sarwat Ali said people shower praise when anyone gets success in showbiz or any other field, but some negative people continue with their habit of backbiting. She says her good work was also appreciated.
Adversity tests friends
As the proverb goes: Prosperity brings friends, adversity tests them. Sarwat Ali says she broke her leg recently after which her fellow actors including Jamal Shah, Zahid Tanha, Iram Sehr, Aftab Hussain and other friends helped her. She says the KP Culture Department and ANP provincial president Aimal Wali Khan also extended financial help.
Sarwat Ali says she left showbiz briefly to look after her little daughter and for some other domestic compulsions. Now she is back and busy in various projects.
Brief break and return to showbiz
She is currently working in a comedy serial with Khyber TV 'Khwakhi-Ingoor' and also completed recording of 'Baran' drama serial for PTV which would be telecast after Eid. She is also doing talk shows for different radio stations.
Sarwat Ali says she has come back to showbiz as she has dedicated her whole life to it and made name for her after hard effort. She believes that she can do justice with her work only in showbiz with her experience and talent.
In her message to people, Sarwat says one should know the true value of time. She says time management is very important as everything can return, but not time.
Hits: 35