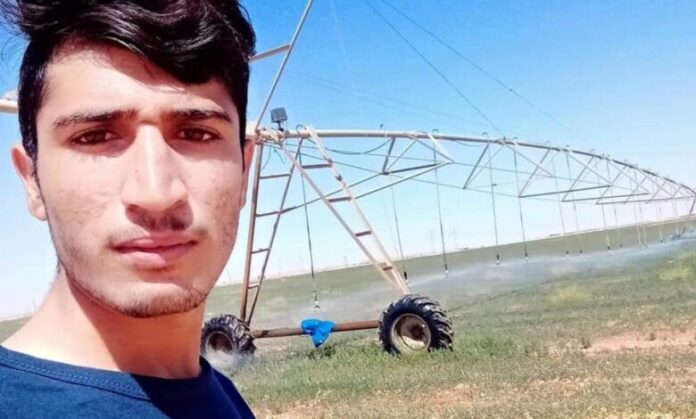 Misbah ud Din Utmani
Muhammad Abbas, a 19-year-old from Salarzai Tehsil in Bajaur, embarked on an illicit journey to Italy alongside his cousin Sohail Khan in September 2020, arranged by an agent. Their route took them to Libya by December 2020, where they last made contact with their family before disappearing without a trace. For the past three years, Abbas's family has been relentlessly searching for him, but their efforts have yielded no results.
According to the International Center for Migration Policy Development, numerous Pakistani youngsters unlawfully venture into Europe annually in pursuit of their aspirations. Between 2017 and 2020, a staggering 21,405 Pakistanis illegally entered European nations.
Italy has emerged as the primary EU destination for Pakistani asylum seekers over the past decade. Alarming UN data reveals that in 2021 alone, 1,600 individuals have either lost their lives or gone missing while attempting to access Europe through human traffickers, both legal and illegal routes.
Najibullah, a 28-year-old employed at a private bank in Bajaur, is the older brother of the missing Muhammad Abbas. Narrating the distressing ordeal, he disclosed that his brother and cousin were in contact with an agent.
Also Read: KP Caretaker Cabinet Resigns Amid Election Commission's Directive
Their journey led them first to Turkey and subsequently to Libya, where the agents' attitudes shifted dramatically. Seized mobile phones and sustenance consisting of grass and leaves for days became their reality. Myriad immigrants, including his brother and cousin, were subjected to torment by these agents, whose deceitful promises led to a shattered European dream.
On December 25, 2020, Najibullah's brother reached out for the last time, conveying their dire circumstances. The message urged Najibullah to heed the agents' instructions for safety and promised a detailed update later. The call marked their final communication. However, when Najibullah inquired about his brother's well-being with the agent, his anxieties deepened. The agent claimed Muhammad Abbas was apprehended in Libya and demanded an additional 1.5 million rupees for his release. Nevertheless, even after three years, there's no sign of his brother's fate—whether he's alive or deceased.
Reflecting on the situation at home, Najibullah wiped away tears and expressed the indescribable pain. "May Allah spare anyone such a day!" he fervently wished. While patience accompanies the bereaved when someone passes away, the anguish stemming from disappearance is incessant. Najibullah revealed that his mother collapses at the mere thought of her missing son.
Agents often paint an enticing picture of a greener pasture for youth grappling with poverty and joblessness, luring them into the perilous journey to Europe through deceptive shortcuts. They promise a swift three to four-day voyage followed by a life of opulence upon arrival. However, the reality starkly contrasts these rosy assurances.
Every year, around 1500 individuals from Bajaur attempt illegal migration to Europe, a hazardous endeavor resulting in hundreds of deaths and thousands of disappearances since 2008. Astonishingly, despite ten police stations in Bajaur, not a single FIR has been lodged in connection to these incidents. The absence of formal complaints is a concerning and perplexing issue.
Najeebullah, driven by the heartache of his brother's disappearance, fervently calls upon the government and the Federal Investigation Agency (FIA) to hold accountable those involved in human trafficking. He seeks stringent punishment to deter them from inflicting similar anguish on other families. Although he refrained from filing an FIR due to his brother's undocumented journey, he emphasizes that his agreement with the agent offered no guarantee of reaching Italy.
The escalation of food prices in Pakistan has propelled a staggering rise in food insecurity, affecting 14.6 million people, according to UN data. Amidst this, the Asian Development Bank and IMF report that a fifth of Pakistan's 220 million citizens already grapple with living below the poverty line.
Hailing from Khar Tehsil in Bajaur, 31-year-old Mursaleen Khan has dedicated five years to advocating for fundamental human rights. He attributes inflation, poverty, and unemployment as the driving factors compelling many from Bajaur to seek Europe via illegal channels. The lack of employment prospects for highly educated youths propels them to choose the perilous route, driven by the desire to provide for their families. This trend extends to less educated youths who also resort to agents for illegal migration.
Mursaleen squarely places blame on state institutions, asserting their failure to deliver improved jobs and basic amenities. This void compels individuals to embark on dangerous routes to Europe in pursuit of better prospects.
When addressing preventative measures, Mursaleen underscores the necessity to generate improved employment opportunities within the region. He advocates for organizing awareness seminars that highlight legal avenues for employment, job acquisition, and migration to Europe.
A report by the refugee monitoring group Walking Borders paints a grim picture, revealing that the number of individuals lost at sea while attempting to reach Europe has doubled in 2021 compared to the previous year. The group attributes this alarming trend to treacherous sea routes and frail vessels utilized by refugees.
In a harrowing incident this year, an illegal immigrant boat bound for Italy from Turkey collided with a rock at sea and capsized, claiming the lives of 67 individuals, including Pakistanis. Among the casualties was Rahimullah, a father of three from Tehsil Mamund in Bajaur, whose body was recovered 20 days after the tragic event.
In a conversation with TNN, Momin, the elder brother of a young man named Momin, revealed that his sibling's decision to embark on a journey to Europe was spurred by the specters of poverty and unemployment. Momin set off for Turkey initially and aimed to make his way to Italy from there. After facing consecutive failures in seven attempts, he resolved to undertake one final endeavor—crossing to Italy by boat.
A 19-year-old from Khar Tehsil in Bajaur, speaking on the condition of anonymity, recounted his own ordeal. He attempted to reach Italy via Turkey three months ago, only to be apprehended in Iran. Agents, pervasive across every tehsil of Bajaur, brokered his deal through Facebook. The journey demanded a payment of 250,000 rupees upon reaching Iran. Defaulting on payment could lead to severe torture or even death, with little recourse due to the absence of legal documentation.
Bajaur district encompasses three circles—Nawagai, Khar, and Utman Salarzai—each containing several police stations. Habibullah, a senior official at the District Police Office in Bajaur, highlighted that while illegal migration is prevalent, not a single case has been formally reported or covered by the media. He attributed this to people's reliance on intermediaries, hindering formal documentation of such cases.
UNHCR data indicates that in 2022, 40,618 individuals from Pakistan left and sought asylum in foreign nations. Among them, Italy, Austria, and Canada received the highest number of applications, yet a staggering 85% were rejected.
According to the EU Commissioner for Home Affairs, Eva Johansson, the volume of migrant boats crossing the Mediterranean has surged by 600%. Johansson laments that many of these individuals are sent to their demise.
FIA records reveal that in 2022, approximately 19,000 individuals were thwarted from illegal travel to Europe, with an additional 10,000 prevented this year. Meanwhile, 34,000 Pakistanis living irregularly in various European countries were repatriated in 2022.
Throughout 2023, FIA has registered 216 cases against suspects engaged in human trafficking, culminating in the arrest of 172 individuals during diverse operations. The FIA spokesperson reaffirms that a nationwide crackdown targeting human trafficking is underway, vowing to bring the perpetrators to justice.
Note: This story is part of the Pakistan Press Foundation Fellowship Program.
Hits: 9