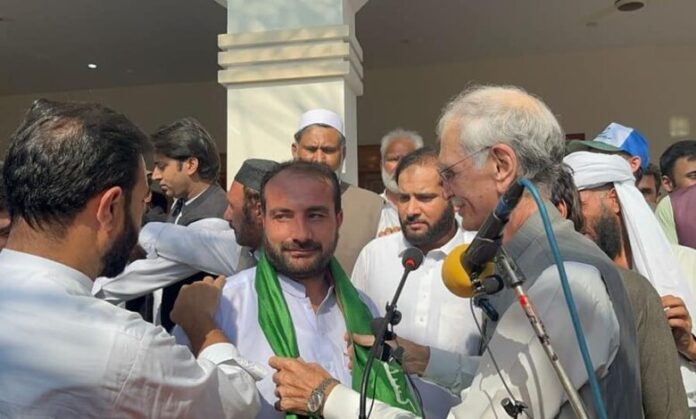 Muhammad Faheem
Pervaiz Khattak, the former Chief Minister, made headlines when he launched the Pakistan Tehreek-e-Insaf Parliamentarians (PTI-P) Party on July 17, 2023, after parting ways with Pakistan Tehreek-e-Insaf (PTI). On the very same day, over two dozen former members of the National and Provincial Assembly joined his new party.
Khattak assumed the role of party chairman, with former Chief Minister Mahmood Khan as the party's vice-chairman. Since its inception, Khattak's party has conducted numerous gatherings and workers' conventions, although no substantial breakthroughs have been reported thus far.
Abdullah Mohmand, a senior journalist associated with Dawn News in Islamabad, highlights the current uncertainty in Khyber Pakhtunkhwa's political landscape. The hope was that Pervez Khattak would significantly impact PTI's hold on the province, but thus far, this appears unlikely, causing concern for Khattak and the ruling circles. Abdullah asserts that Khattak's ultimate aim in Khyber Pakhtunkhwa is to secure Imran Khan's voters' support, a feat that seems challenging given his opposition to Khan.
Also Read: Flour Prices Drop in Peshawar, Bringing Relief to Residents and Dealers
According to Abdullah Mohmand, Khattak may perform well in a single constituency or district, but winning the province independently is an entirely different matter. For over two decades, his political influence was predominantly limited to Nowshera, particularly Manki Sharif. However, it's essential to acknowledge that his recognition at the provincial and national levels was primarily thanks to PTI and Imran Khan. Establishing a new political party and achieving success is a daunting task.
On August 19, PTI parliamentarians held their first rally in Nowshera, considered Parvez Khattak's stronghold. The rally, however, left political observers less than satisfied. Nevertheless, Khattak and his party expressed considerable contentment. Subsequently, gatherings and workers' conventions were arranged in various regions, including Mansehra, Kohistan, Swat, Kohat, Peshawar, DI Khan, and Bannu. While some events drew attendees, many featured conspicuously empty chairs.
Nazr ul Islam, a senior journalist associated with an international broadcasting organization, contends that Pervez Khattak lacks a compelling slogan. He served as Chief Minister for five years, while Mahmood Khan, by his side, held the same office for four and a half years. Despite this, the critical question remains: What have they accomplished over the last decade? Khattak has never been particularly popular with the public, so expectations for large gatherings may be misplaced.
As Nazr ul Islam suggests, Parvez Khattak's influence is primarily confined to Khyber Pakhtunkhwa, and the province's residents tend to support an anti-establishment narrative. Interestingly, when Imran Khan was aligned with the establishment, he faced losses in numerous by-elections, and PTI's future appeared bleak. However, a shift to an anti-establishment stance saw a significant turnaround in electoral fortunes. Khattak's primary challenge is to secure votes, as mere assurances won't suffice for the Chief Minister's aspirations. Winning his own seat and playing a role in the victories of other candidates is the path forward.
With the upcoming general elections on the horizon, former Prime Minister Mian Muhammad Nawaz Sharif has made a high-profile return, marked by a massive gathering at Minar Pakistan.
Meanwhile, in Khyber Pakhtunkhwa, the Jamiat Ulema-e-Islam has kickstarted its election campaign with the Mufti Mehmood Conference, choosing the Benazir Hospital plot in Peshawar as their launch site. Notably, Pervez Khattak has yet to host a comparable event within the province, causing concern for the party leadership and its newly acquired members.