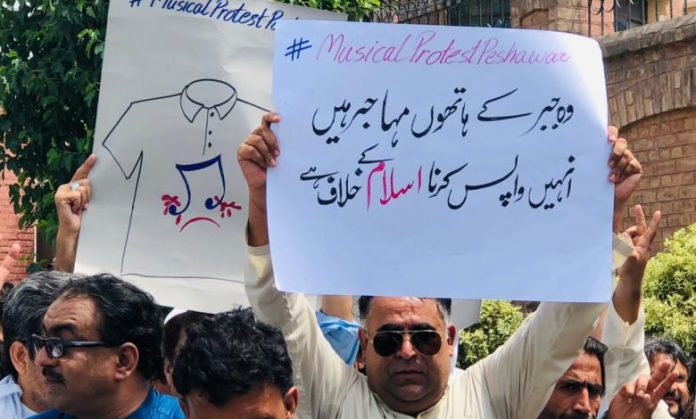 Usman Danish
A local court on Friday granted bail to four Afghan musicians detained for illegally staying in Pakistan.
The court approved the bail application of the musicians on surety of Rs 90 billion.
Tehkal police had detained the musicians early hours of May 28 on charges of violating the section 14 of the Foreigners Act. The musicians were returning from a musical event, when police detained them.
A large number of Afghans including artists have shifted to Peshawar fearing for their lives after the fall of Kabul earlier in August last year.
The musicians fear Taliban reprisals in case they are deported to Pakistan.
Tariq Afghan, the counsel for the musicians said that his clients were arrested under section 14 of the Foreigners Act. However, he said that they have not left their country in normal situation; rather, Taliban made life hell of them after their taking over in Kabul.
He said that Taliban also tortured and destroyed their musical equipment, forcing them to flee their homes. He said that under Article 14 of the Universal Declaration of Human Rights someone facing life threats and oppression can seek refuge in other country.
Mr Afghan said that these artists can stay in Pakistan on humanitarian grounds.
He said that situation in Afghanistan was not suitable for their return. In addition to this, he said that a large number of Afghans fearing for their lives have migrated to Pakistan and other countries.
Besides, he said that Iran, Tajikistan, Turkey and other European countries have not deported Afghan artisans and such a treatment in Pakistan was regrettable.
Rashid Khan, the president of Hunari Tolana said that Afghan musicians have escaped their country to save their lives. He said that their deportation to Afghanistan will expose them to grave threats to their lives.
Musical Protest
Earlier on Thursday, civil society organization announced to end their Musical Protest in favor of Afghan musicians after successful talks with the authorities.
In the talks, KP government agreed that the culture department will issue cards to the Afghan musicians. Besides, authorities also promised to not to harass Afghan musicians.
Hits: 7