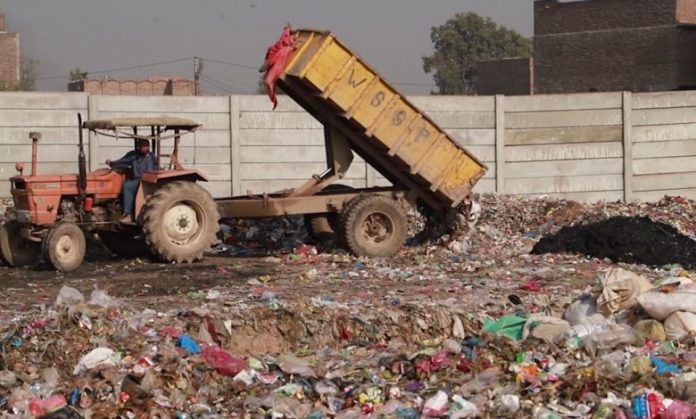 Shaheen Afridi
Water and Sanitation Service Peshawar (WSSP) has launched city's first sanitary landfill to overcome the pollution resulting from unscientific disposal of waste.
This landfill which has been setup in the Shamshatu area on the outskirts of city has storage capacity of 120,000 tonnes of waste. WSSP said that the landfill which has been built at Rs 22 million was 130 meters long and 60 meters wide and its surface is covered with a geo-membrane that prevent seepage of wastewater in ground and protect groundwater from contamination.
WSSP's chief Dr Hassan Nasir said that this was first sanitary landfill anywhere in the province and has been built at the cost of Rs 22 million.
He said that this landfill help reducing the pollution in the city and waste will be dumped in a a scientific way. Dr Nasir said that it will help minimizing risk of adverse impacts on land, water and air environments associated with waste disposal. "This engineering intervention will reduce the emission of greenhouse gases that can be utilized for energy production or economic dividends can be generated by consequent selling of the captured gases," he said.
Peshawar waste management system
Peshawar is one of the largest cities of Pakistan with a population of over 4 million in the 2017 Census.
WSSP estimates that the city generates about 800 tonnes of waste per day. However, the city's solid waste collection and management facilities are not able to collect all this waste and properly dispose it; therefore, 60 per cent of the solid waste left on the roadsides and garbage dumps. This untreated garbage causes air and water pollution and causes environmental hazards.
In addition to this, solid waste is leading to illnesses in the city including bronchitis, asthma and cancer and even can cause mental issues among the children. Infections and allergies resulting from inhalation of polluted air is common problem.
Ihsanullah, a resident of HazarKhwani area of city said that his father has developed breathing and lungs issues due to garbage burning while his two children were also suffering from skin problems.
He said that their village was used as garbage dumping site by the municipal committee. "The garbage dump turned our life of about 200 households of the area into a hell," he said.
He said that they were even thinking of relocating to some other place.
Ikram Ghani, another local said that they always use face coverings to shield odor emerging from the garbage dump while the swarms of flies also made their miserable.
On the other hand, World Health Organization guidelines state that 99 percent of the global population was breathing polluted area. Similarly, polluted air kills about 7 million people every year and 90 percent of them were living in low and middle income countries.
On the other hand, a Peshawar Clean Air Alliance report from 2021 stated that the Peshawar was third most polluted city in the country and ninth globally.
The report said that the transportation, industries, burning of waste and household pollutions were some of the main drivers of pollution.
WSSP General Manager Dr Mehboob Alam said that this landfill site will benefit the present and future generation.
He said that before the inauguration of this site, garbage was dumped into open air and it caused air pollution due to discharge of various gases from the dump besides contaminating the underground water.
He said that the landfill cell was based on a technique for the final disposal of solid waste in a pit that causes no nuisance or danger to public health and safety. "It doesn't cause any harm to the environment during or after operation," he said.
Based on engineering principles, waste is confined at such a small an area as possible, Dr Alam said, adding that the waste would be covered with layers of soil and compacted to reduce its volume.
Dr Alam said that the WSSP staff have designed and tested this site and it will protect the underground water.
WSSP said that they have converted the old landfill sites into beautiful parks which result into clean air and atmosphere for residents.
Hits: 96