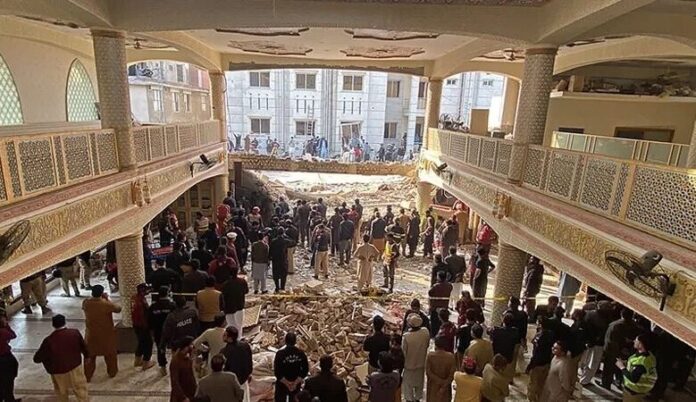 Aftab Mohmand
Peshawar: Law-enforcement agencies have arrested two alleged facilitators of a suicide bomber involved in the Peshawar Police Lines blast in January this year.
As per the law enforcers, one of the facilitators, arrested from the Hashtnagri area of Peshawar, is from Afghanistan while the other is from the Khyber district.
The law enforcement agencies said the action was taken against the facilitators on a tip-off, the investigation is ongoing and further revelations are expected.
Sources claim that the facilitators were trying to escape abroad at the time they were arrested, and the passport and other documents of the Afghan facilitator, including his visa, have been recovered from a seminary in Peshawar.
Also Read: Remembering Sahibzada Nurul Amin, the martyred prayer leader of Peshawar police lines mosque
Yesterday, IG Khyber Pakhtunkhwa Police Akhtar Hayat Khan said in the Meet the Press Program at Peshawar Press Club that the group involved in the blast has been exposed.
He claimed that the police are trying to trace the facilitators of the blast, the person previously suspected has not turned out to be correct while DNA sampling and geo-fencing have been done.
On January 30, more than 100 people, mostly police personnel, were martyred and more than 200 were injured in a suicide attack in the Peshawar Police Lines Mosque during Zuhr prayer, while the building of the mosque was also severely damaged in the blast.
After the incident, the former IGP Muazzam Jah Ansari declared the tragedy as a security lapse.
Later the police personnel also recorded a protest in different districts of Khyber Pakhtunkhwa.
He assured the RPOs (Regional Police Officers) and other police officers that the victims of the tragedy will be given justice and strict action will be taken against those responsible for the tragedy.
In the CCTV footage released to the media after the incident, it was clearly seen that the suicide bomber entered the police line on a motorcycle, while official sources claimed that the attacker belonged to a tribal area.
Hits: 35