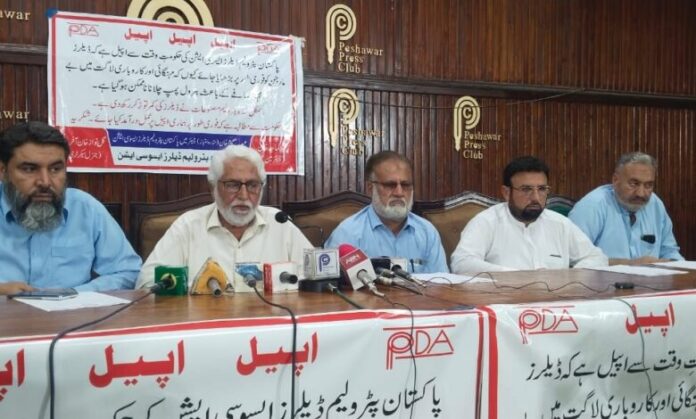 Peshawar: On the call of the Pakistan Petroleum Dealers Association, the Khyber Pakhtunkhwa Petroleum Dealers Association has announced the closure of all petrol pumps in the province starting July 22, as their demands remain unmet.
Addressing a press conference at the Peshawar Press Club, Chairman Abdul Majeed highlighted the challenges faced by dealers due to increased electricity and gas bills, coupled with reduced margins. Smuggled petrol sales have further decreased their revenue by 30%.
Currently, the margin per liter is 6 rupees, and the dealers are demanding an increase of 5 rupees, making it 11 rupees per liter.
Also Read: Unjust Distribution of Medical Seats Sparks Concern in Merged Districts
Gul Nawaz Khan, General Secretary of the Khyber Pakhtunkhwa Petroleum Dealers Association, emphasized the impact of this decision on the workforce, stating that over 200,000 people are employed in more than 1200 petrol pumps in the province. He asserted that they will not continue operations at such low margins.
Despite their demands being advertised in newspapers and directed to the Prime Minister and Minister of Petroleum, there has been no response, leaving them with no option but to proceed with the strike.
The issue of smuggled petrol also plagues the industry, causing further concern for petrol pump owners. They expressed hope that a resolution would lead to a more favorable business environment with a reduced likelihood of smuggling.
Hits: 14