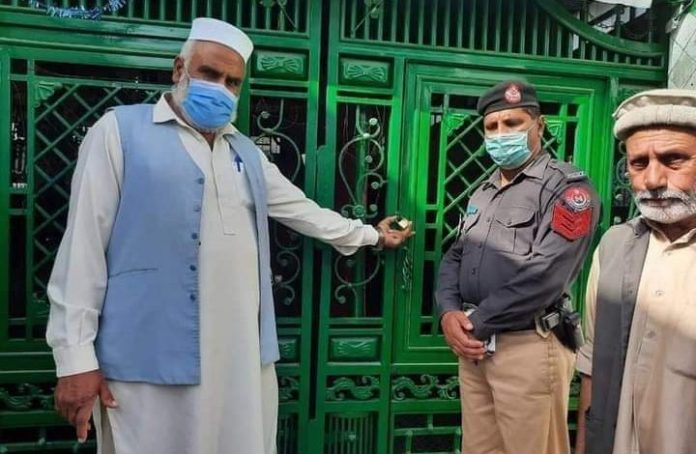 BUNER: The district administration of Buner has closed the famous Pir Baba Shrine and imposed smart lockdown in several areas owing to increasing number of coronavirus cases in the district.
According to the district administration, the third wave of coronavirus has started showing its impacts in Buner and there are 17 active cases, while the results of 418 suspected cases are awaited. The Pir Baba Shrine had to be closed after two cases were reported from it. Now the devotees will have to wait for reopening of the shrine and would not able to visit it during the lockdown period.
During the smart lockdown, some restrictions have been put in place, and unnecessary movement of people in the affected areas will be restricted. The areas where smart lockdown has been imposed include Shalbandi, Bagra, Langao Mazi, Abakhel and Salarzai. Disinfectant spray is also being applied in the areas under the smart lockdown.
The district administration has asked the citizens to strictly observe the standard operating procedures (SOPs) to avoid the spread of the virus infection. The deputy commissioner has particularly stressed the need for strict precautionary measures at restaurants and public places. People have been asked to wear facemask while going outside their homes and avoid unnecessary meetings and interactions.
However, like other parts of KP, the implementation of the precautionary measures is not up to mark and many people are seen openly violating the SOPs which is a dangerous trend as the virus is feared to spread quickly.
Two days earlier, 12 police personnel from Bajaur tribal district, who were receiving training in Buner, were diagnosed with coronavirus infection.
The infected police personnel were called back to Bajaur from Buner and they were asked to quarantine themselves at their homes until they fully recover.
District Police Officer (DPO) Bajaur Shahzada Kokab told media representatives that 150 Levies personnel from Bajaur, who have been recently integrated into Khyber Pakhtunkhwa Police, are receiving police training in Daggar area of Buner. He said coronavirus tests of some personnel were conducted after they developed symptoms, and 12 tests came back as positive.
The DPO said corona tests of all the personnel were conducted after the development.
Hits: 3