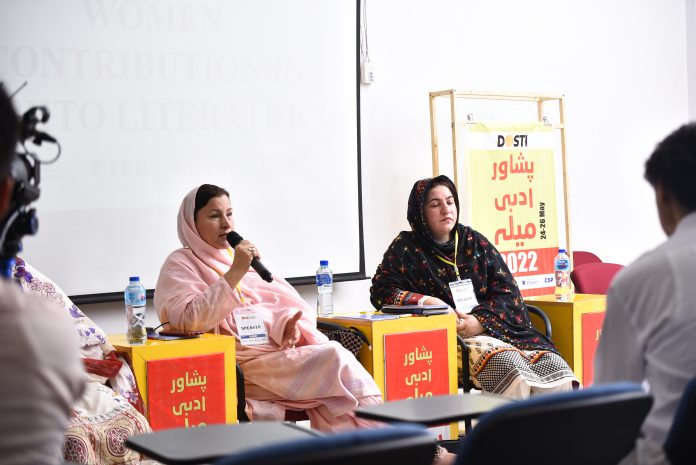 The three day Peshawar Literature Festival concluded here on Thursday.
On the third and final day of the festival, a total of 12 sessions covering different subjects took place.
University of Peshawar pro vice chancellor Professor Dr Zahid Anwar was the chief guest while renowned writer Nasir Ali Syed was the keynote speaker at the concluding session. Institute of Education and Research Director Professor Muhammad Rauf thanked the participants and volunteers for their efforts to make the festival a success.
Dr Altaf Qadir, assistant professor Department of History at this occasion stated that a total of 35 sessions took place over the period of three days. He said that thousands of people thronged the festival and attended sessions and visited stalls.
Besides, over 70 volunteers' students from varsity worked day and night to make the event a success. He said that a total of 250 children from different schools took part in English and Urdu handwriting competition while 70 others participated in Urdu debate contest.
At this occasion, the chief guest distributed certificates among the student volunteers.
Also on the final day of the festival, a total of 12 sessions took place. Eminent academic Nida Kirmani also attended a Zoom session at the event about the Marginalization, Contestation, and Change in South Asian Cities. Dr Aamer Raza, assistant professor political science department moderated the session.
Another session on work on representation discussed the portrayal of locals in media. Dr Faizullah Jan moderated the session while Dr Anoosh Khan and Liaqat Seemab were the panelists.
In addition to this, session also discussed resistance in Pashto poetry, resistance in Urdu short story and poetry, Islam and Post Islamism, portrayal of Pashtun in local media, women role in Pashto literature, religious harmony and activism and reformative practices.
Hits: 9