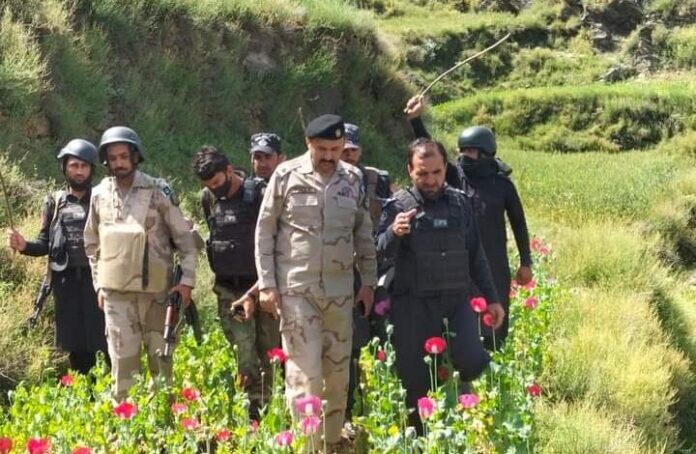 Asmat Khan
Poppy cultivation in Khyber Pakhtunkhwa, Pakistan has been a major challenge for government institutions due to the prevalence of poverty, unemployment, and law and order issues. However, the police have taken strict measures to discourage the cultivation of poppy, which is often used in opium, heroin, and other drugs. The police have recently destroyed poppy crops on 176 kanals of land in Swabi and Mohmand districts.
In the Swabi district, the police have taken strict action against poppy cultivation, which had started again in the hilly areas of the district, and the province. A heavy force of police destroyed poppy crops cultivated in Mangalchai, Chennai Dalori, Deval Ghari upper & lower, and other areas of Gadoon Amazai. Poppy crops were completely eliminated on about 100 kanals of land in three days.
Also Read: How drugs so easily reach to girls students in Peshawar?
It should be noted that poppy crop cultivation was banned on the world level due to its use in drugs like opium and heroin. Since then, Pakistan has taken measures to eradicate poppy cultivation. The police and administration take timely action to destroy any poppy crops cultivated by farmers.
Apart from Swabi, poppy cultivation is also prevalent in other districts of Khyber Pakhtunkhwa including Chitral, Khyber, Mohmand, and Waziristan. In a joint operation, the Mohmand Police and Anti-Narcotics Force have recently destroyed opium grown on about 76 kanals in Tehsil Padang Ghar.
Captain (Rtd) Najam Hussain, DPO Swabi, says that drug addiction starts with opium, which puts the lives of many youths at risk. He stresses that the cultivation of poppy is the root of addiction and can cause many harms, including law and order disturbances, misbehavior of the new generation, and an increase in crime. He assures that formal action will be taken against those who cultivate poppy.
Farmers who cultivate poppy argue that high inflation, increasing unemployment, and destroyed crops due to natural disasters and seasonal changes have left them with no choice but to cultivate poppy. They request that the government provide them with alternative crops to sustain their livelihood.
An officer of the Anti-Narcotics Force acknowledges that poppy cultivation has significantly reduced over the past five to six years due to the efforts of law enforcement agencies. The government is committed to making Pakistan free from the scourge of drugs and is playing a prominent role in global efforts to eradicate drugs.
Hits: 9