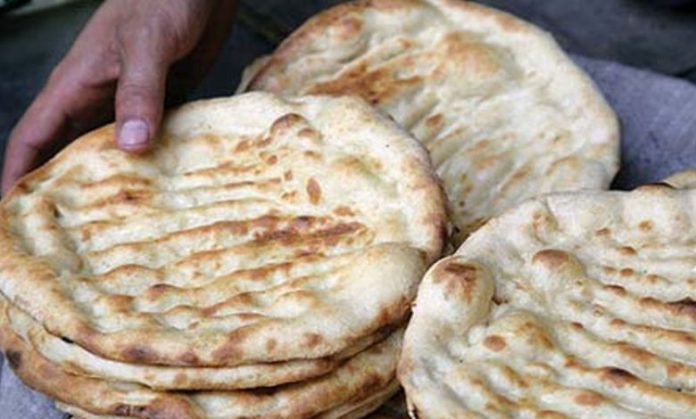 Usman Danish
At a time when large parts of the country are grappling with the aftermath of devastating floods, record increase in flour prices is also taking its toll on people struggling with inflationary pressure.
For past some days, flour prices are witnessing record increase across the country and a bag of flour has touched its highest price. Earlier on Saturday, Nanbais Association staged a protest against rising flour prices and threatened to pull down shutters if government failed to increase bread prices.
Reasons for hike in flour prices
Khyber Pakhtunkhwa Nanbai Association president Rahim Safi said that due to inflation it has become difficult for them to continue work. He said that despite the increase in flour prices, they have not jacked up bread prices in the city.
Mr Safi said that a 85 kilograms bag of flour cost them Rs 6800 which has now jumped to Rs 9200. "A bag of flour has gone up by Rs 2000 and in such a situation it was not possible for them to continue sell bread at old price," he said.
Besides, he said that they were not in business to incur losses. He said that they were demanding government to provide subsidize flour to nanbais so that they can provide cheap bread to public.
However, he said in case of failure to do so they would be compelled to increase bread price or reduce it weight.
Flour prices in Punjab and KP
Punjab which is major wheat grower, provides flour and wheat to other parts of the country. However, at the same time, the price of flour in KP appears more than double to that in Punjab.
Mr Safi said that a bag of 20 kg flour was available for Rs 1200 in Punjab while the same was costing Rs 2400 in KP. "This is injustice to the people of KP who have been forced to purchase 100 percent costly flour as compared to Punjab," he said.
Mr Safi said that in the past, such issue used to arise due to the rival political parties being in power in Lahore and Peshawar. However, he said that now when the Pakistan Tehrik Insaf was in power in both provinces, KP people were being made to pay 100 percent more than Punjab for flour.
He said that KP government should take up this issue with the Punjab government and get the bans on flour supply revoked.
Awal Gul, a nanbai who runs a tandoor in Pipal Mandi area of Peshawar since 1990 said that he has not witnessed this much inflation in his entire life.
"It is not only flour but gas price have also doubled," he said.
He said that a LPG cylinder which used to cost Rs 2500 has now reached Rs 5000.
Mr Gul said that all the governments have been blaming their predecessors for the inflation. He said that the Punjab government ban on flour supply has resulted into the higher prices and if the ban remained in place, then, the prices were likely to further shot up.
Mr Gul demanded that authorities to take pity on poor people and allow them to run their small businesses and eat twice a day.
Hits: 72