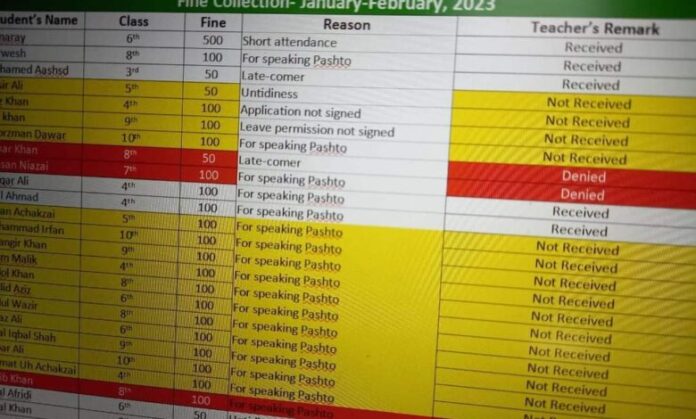 Usman Danish
A Peshawar based private school has banned its students from speaking in Pashto on its premises. A notification issued by the Peshawar Model School states that it was forbidden to speak Pashto in school and those speaking the language shall be fined Rs 100.
On the other hand, Jabir Khan, a Peshawar High Court lawyer has approached the Private School Regulatory Authority seeking it to get the school's orders reserved. He said that he will be forced to petition the high court, if these orders were not withdrawn.
Language is a constitutional right
Jabir told TNN that Article 251(3) of the Constitution which was inserted under the 18th Amendment has mandated the provinces to promote regional languages. Besides, he said that the section also calls for developing curriculum in provincial and regional languages. "Even Article 2 of the Constitution calls for the same," he said.
He said that KP government enacted the Promotion of the Regional Languages Authority Act 2012, which has entrusted the provincial government with the responsibility promotion of mother tongues and indigenous languages. In addition to this, this law also provides for taking steps to translate the academic books in provincial and regional languages.
Jabir said that at one hand, Constitution talks about giving right to people, while on the other hand, a private school has banned the speaking of Pashto. "They have made it a crime to speak Pashto in school," he said.
He said that they were opposed to the private school ban on Pashto.
Jabir said that speaking their mother tongue was the right of the children. He questioned that how someone can deny children use of their mother tongue, when constitution allows them this right.
Besides, he said that he also asked the PSRA to talk to school administration in withdrawing the notification. "Otherwise, I will forced to take the school and PSRA to high court to get the notification reversed," he said.
On the other hand, the notification is widely being shared on social media and users are criticizing the move.
International Day of Mother languages
Ejaz Ahmed, communication officer of the Forum for Language Initiatives (FL), which works on the promotion of KP's indigenous languages termed private school ban on Pashto as sad.
He said that how someone can stop kids from speaking their mother tongue. "This happens nowhere in the world," he said.
Ejaz said that developed countries promote regional languages while in Pakistan mother tongues were being banned in school.
He said that the world was going to observe the International Day of Mother Languages on February 21. Besides,  he said that FLI arranges event to mark this day in different cities of the country; however, at the same time kids were being stopped from speaking their language.
Ejaz said that in Pakistan English was treated as literacy and private schools were promoting this. However, he added that private schools were doing this attract parents to get their kids enrolled in such schools.
Besides, he said that FLI was working on the promotion of indigenous languages of the province and working to promote endangered languages of the province.
Besides, he said that they were also working to spread awareness among private schools regarding promotion of indigenous languages.
Hits: 72