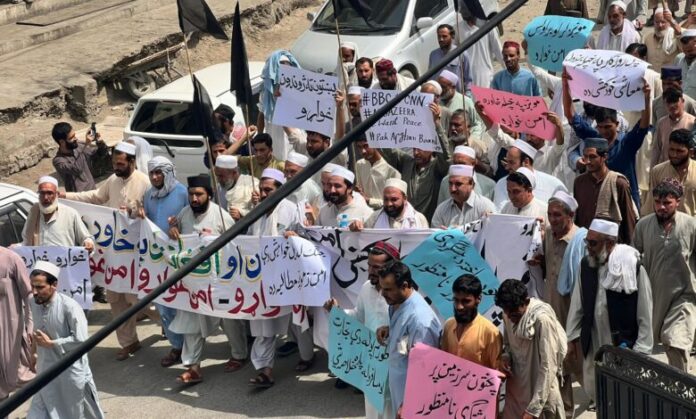 In the Khyber Landi Kotal district, a protest demonstration has been staged against the closure of the Pak-Afghan Torkham border. Demonstrators gathered in Landi Kotal Bazaar and emphasized that both countries' authorities must resolve their issues through negotiations.
The protestors' primary demand is the immediate reopening of the Torkham border for pedestrian traffic and commercial activities. They believe this step will alleviate the hardships faced by transporters and passengers and enhance bilateral trade.
At the protest in Landi Kotal Bazaar, participants warned that if the Torkham border remains closed to foot traffic and commercial activities for two days, customs clearance agents, transporters, traders, leaders, workers, and the general public will initiate an indefinite protest, persisting until the Torkham border reopens.
Also Read: Dengue High-Risk Zones Identified in KP as Cases Surge
Prominent figures in attendance included the Chairman of Torkham Customs Clearance Agents, Merajuddin Shinwari; President of Torkham Transport Union, Haji Azimullah Shinwari; Torkham Customs Clearance Agents presidential candidate, Malik Riaz Shinwai; Aimal Shinwari; Syed Muqtadar Shah Afridi; senior leaders of Pakistan Tehreek-e-Insaf, Shahid Shinwari; Tehsil Deputy Chairman, Wali Muhammad Shinwari; Shah Rehman Shinwari of Pakistan Peoples Party; Aftab Shinwari of PTM; Samiullah Afridi; Ikramuddin Shinwari; Sajid Afridi of Pakistan Muslim League-N; and Qari Nazeem Gul Shinwari, along with other political leaders.
It's worth noting that on September 6, an exchange of fire occurred between border forces at the Pak-Afghan Torkham border, resulting in the deaths of two individuals, including an Afghan driver and an official, according to authorities.
The incident reportedly stemmed from Afghan forces' attempt to construct a checkpoint on the border, leading to heavy gunfire when Pakistani forces refused. Subsequently, authorities closed the Torkham border to all forms of commercial activities and traffic.
Hits: 99