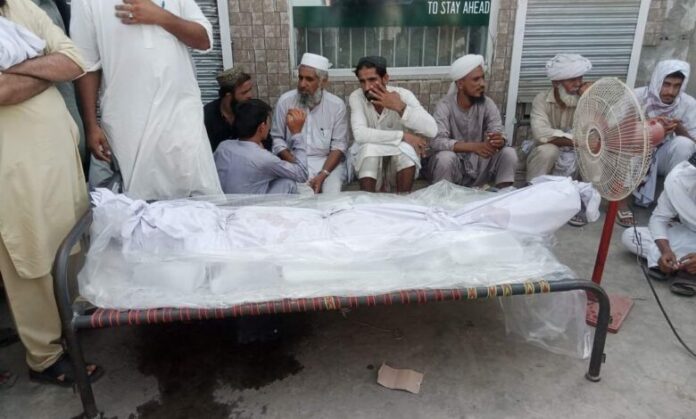 Ghulam Akbar Marwat
A young man lost his life, and four others were wounded in a violent incident that unfolded during a protest demanding rights from the Lakki Cement Factory in Lakki Marwat.
According to SHO Waseem Sajjad, diligent efforts were made the previous evening to defuse the situation through negotiations and reopen the Peshawar-Karachi Indus Highway. Regrettably, the protestors remained uncooperative.
Later that night, as the number of protestors dwindled to fewer than 50, a group of drivers, conductors, and commuters attempted to unblock the road. Simultaneously, SHO Waseem Sajjad, along with DSP Ghazni Khel and the police outpost Shehbaz Khel team, arrived at the scene to avert a potential altercation between civilians and demonstrators.
Also Read: Allegations and Intrigue: University of Swat Faces Harassment Controversy
Amid these developments, another faction of protestors opened fire at the police officers. In self-defense, the police retaliated with gunfire. Following approximately 15 minutes of exchange, five individuals sustained injuries, including Nasruddin, Waheed Nawaz, Saifuddin, and Ali Khan. One of the injured was a policeman with minor wounds. Tragically, Nasruddin succumbed to his injuries due to profuse bleeding.
SHO Waseem Sajjad conveyed that these individuals appeared to be targeted by fellow members of their party. An official case has been registered, and investigations are underway.
Concurrently, the protestors have obstructed the Peshawar Karachi Indus Highway by positioning a deceased individual on the road. Despite the shooting incident, more people gathered outside the Lakki Cement Factory to amplify their protest.
The protestors narrate that four of their associates were apprehended by the police the prior evening. Subsequently, residents of Wanda Jogi initiated a late-night protest on the Indus Highway, which led to the police using firearms against the demonstrators.
Fuelled by anger, the protestors recommenced their demonstration by placing the deceased body in front of the factory. Additionally, they have effectively sealed off the Peshawar Karachi Indus Highway, impeding all forms of traffic.
Located at the crossroads of Lakki Marwat and Dera Ismail Khan, the Lakki Cement Factory has long been accused of neglecting its financial obligations towards the local populace. The concept of ownership encompasses payment to the landowners in addition to royalties.
The residents of Wanda Jogi have periodically protested against this issue. About four months ago, they staged a demonstration after the factory initially disbursed Rs 3 crore but withheld the remaining payment. The recent incident transpired during another protest staged by the Wanda Jogi community, once again highlighting their grievances against the factory.
Hits: 14