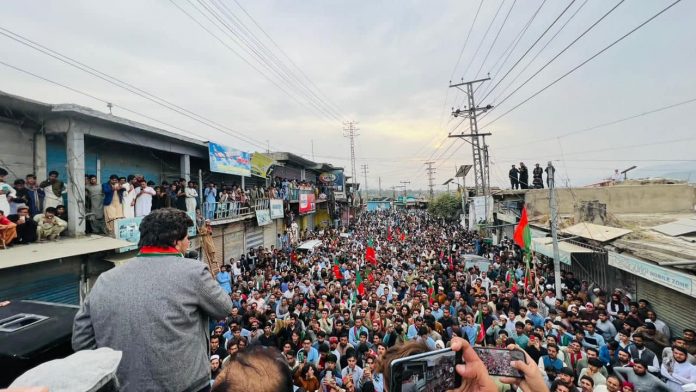 Pakistan Tehrik Insaf (PTI) workers on Friday staged protests in provincial capital and other parts of the province against the assassination bid of former Prime Minister Imran Khan in Wazirabad a day earlier.
Earlier PTI general secretary Asad Umar in a social media post announced countrywide protests after Friday prayers which will continue the acceptance of demands of PTI chairman Imran Khan.
In provincial capital, a large number of PTI workers gathered at Islamabad-Peshawar Motorway interchange and closed the major traffic artery for all kinds of traffic. The protesters chanted slogans against federal government and in favor of PTI chairman.
The protesters said that they will stand with their party chairman till last drop of their blood.
Former federal minister and MNA from Swat Murad Saeed at this occasion addressed the protesters and in his speech condemned the attack on Imran Khan.
Starting around 3pm, the Peshawar-Islamabad Motorway was closed till 7pm due to the protests.
Similarly, protests were also held in Kohat, Abbottabad, Bajaur and other parts of the province as well.
The attack on PTI chief had killed a person and injured 13 others including senior PTI leaders Faisal Javed Khan.
On the other hand, Mr Khan was currently admitted to Lahore Shaukat Khanum Cancer Hospital and undergoing treatment.
On the other hand, Punjab police is investigating the attack on PTI chief and decided to conduct polygraph test of the accused.
Protests had erupted across the country soon after the attack on PTI chairman on Thursday as well.
Hits: 76