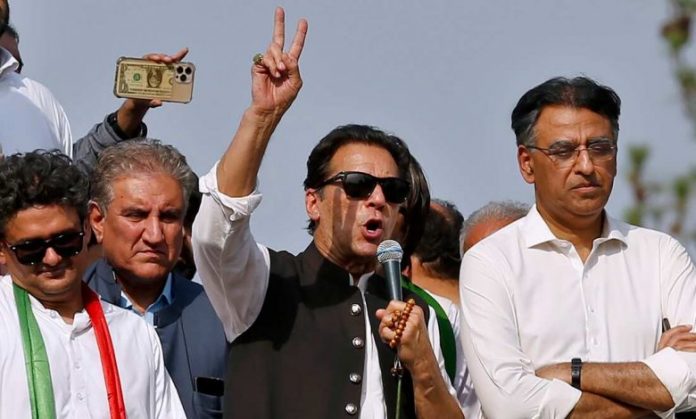 Pakistan Tehrik Insaf (PTI) chief Imran Khan has made a record of winning highest number of six National Assembly seats in the Sunday by-polls after winning six NA seats.
In KP Mr Khan won all three seats including defeating  the Awami National Party (ANP) Khyber Pakhtunkhwa President Aimal Wali Khan on his home constituency NA-24 Charrsadda. Besides, Mr Khan has also defeated his rival candidates on NA seats in Peshawar and Mardan as well.
In Charsadda, Mr Khan secured 78,589 votes from 384 polling stations of the district while Mr Aimal managed to secure 68,356 votes. However, Mr Aimal has rejected the poll results alleging rigging and announced to approach the Election Commission of Pakistna.
In addition to this, Mr Khan won the NA-22 Mardan polls after polling 76681 votes while his closet rival JUIF Maulana Muhammad Qasim polled 68181 votes.
On Sunday, by-polls were held on eight seats of NA including three each from Khyber Pakhtunkhwa and Punjab and two seats of Sindh that had fallen vacant following the PTI lawmakers' resignation. Besides, polls also held for three seats of Punjab assembly.
NA-22 Mardan
Unofficial results of all 330 polling stations show that PTI chief has won the election by polling 76681 votes against 68,81 votes of his rival JUIF Maulana Muhammad Qasim.
NA-24 Charsadda
According to unofficial results from all 384 polling stations, PTI chief has defeated his rival Amial Wali Khan by securing 79589 votes while Mr Aimal secured 68,356 votes.
NA-31 Peshawar
Similarly unofficial results from all 230 polling stations of NA-31 Peshawar showed that Mr Khan polled 57, 824 votes while Haji Ghulam Ahmed Bilour secured 32,253 votes. Jamaat Islami Haji Muhammad Aslam only secured 3817 votes.
On the other in Punjab,  NA-108 Faisalabad, PTI chief defeated PMLN leader Abid Sher Ali, on NA-118 Nanakana Sahib, Mr Khan defeated another PMLN leader Shuzra Mansab Ali. However, PPP's Ali Musa Gillani defeated PTI Mehr Bano Qureshi.
In Sindh, PTI chief won NA-239 Karachi; however, he lost the NA-237 polls to PPP Abdul Hakim Baloch.
On the other hand, PTI won two of the Punjab assembly two seats while the third one was secured by the PMLN.
PML-N's Iftikhar Ahmad Bhangoo won PP-139 Sheikhupura while PTI candidates won the PP-241 Bahwalnagar and PP-29 Khanwewal.
Hits: 56