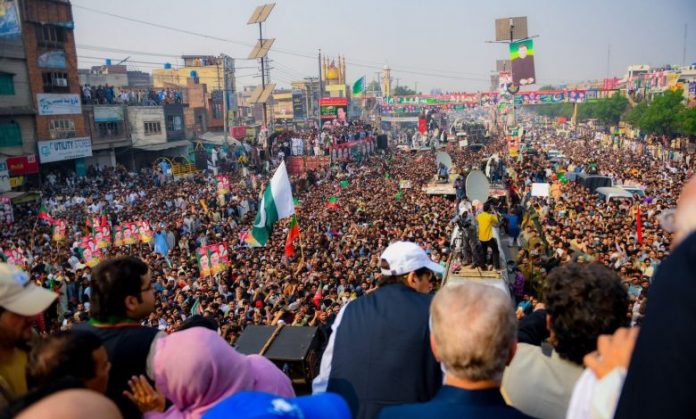 Another person died in an accident involving the Pakistan Tehrik Insaf (PTI) container during the ongoing Haqeeqi Azadi March on Wednesday.
The accident, according to multimedia journalist Arshad Chaudhry, took place near Gujranwala-Rawalpindi Bypass.
Mr Chaudhry shared a post on his Twitter stated that the PTI container was rushing on high speed from wrong directions. He said that 14 years old was killed in the accident while another boy of 11 years was injured.
He said that angry locals at this occasion chanted slogans against the PTI chief.
It is worth mentioning here about three days ago, a female reporter was crushed to death by the PTI container.
گوجرانوالہ پنڈی بائی پاس پر پی ٹی آئی کنٹینر نے ایک اور جان لے لی موٹرسائیکل پر سوار 14 سالہ لڑکا موقع پر جاں بحق جبکہ 11 سالہ بچہ شدید زخمی ہوگیاپی ٹی آئی کا کینٹینر رانگ سائیڈ سے تیز رفتاری میں آرہا تھا: ریسکیو
شہریوں نے روڈ بند کرکے گھڑی چور کے نعرے لگانے شروع کردئیے pic.twitter.com/f6FGVx1Wqv

— Arshad Chaudhry (@arshdchaudhary) November 2, 2022
Sadaf Naeem, a reporter with the Channel 5 was crushed to death by PTI Chief Imran Khan's container near the Sadhoke area on Grand Trunk Road. Before her death, she was seen running along with the container.
PTI chief Imran Khan also came down of his container following the accident and deferred the long march till next day. The next day, Mr Khan also visited deceased reporter's family to offer condolences.
Ms Sadaf was associated with journalism for past 12 years and is survived by a son and daughter.
Hits: 212