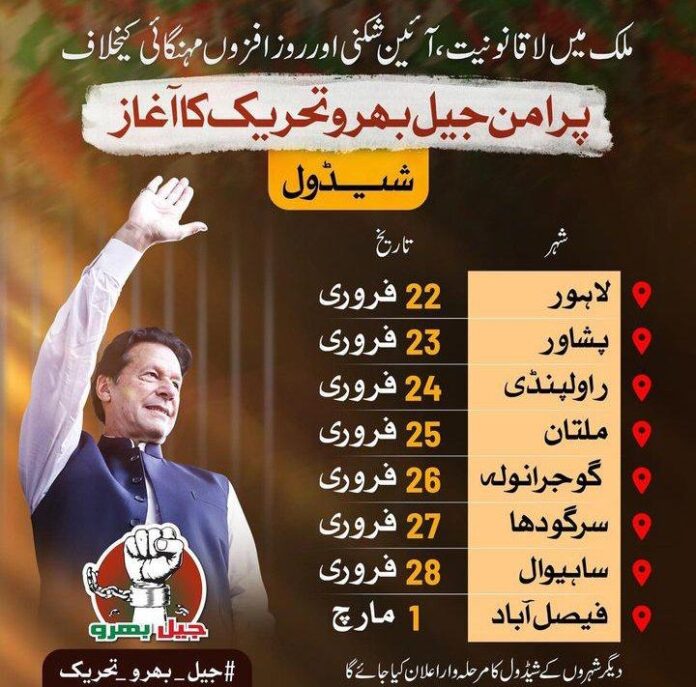 Usman Danish
Pakistan Tehreek Insaf (PTI) jail bharo tehreek or (court arrest drive) is starting from February 22 from Lahore.
PTI chief Imran Khan had some days ago announced to start jail bharo tehreek from Lahore in protest against delay in holding of provincial assembly polls in Punjab and Khyber Pakhtunkhwa.
Following the announcement, PTI workers are making preparations for the court arrest drive and former provincial minister Ishtiaq Urmur had directed the party workers to offer themselves for arrests from Thursday.
He said that they will offer arrests on Hashtnagri area of provincial capital on Thursday. Ishtiaq said that in the first phase four provincial assembly members and later district chapters leaders will also offer arrests.
PTI jail bharo tehreek will start from Lahore on February 22 and 200 activists will offer arrests.
Similarly, on Thursday in Peshawar workers will offer arrests while on Friday in Rawalpindi, Saturday in Multan, Sunday in Gujranwala, Monday in Sargodha, Tuesday in Sahiwal and Wednesday Faisalabad.
What the law says about the court arrest drive?
Danial Chamkani, a Supreme Court lawyer said that no one could be detained without a crime. He said that even jail authorities could not send someone to prison without magistrate orders. Jail manual provides for entries of an accused inside the prison wherein they have to state the crime under which the accused is behind bar.
Ali Gohar Durrani, another lawyer questioned that why the authorities will arrest the PTI workers when they have not done any wrong.
Durrani said that to go inside prison, they have to do something illegal. "Police cannot arrest someone without a crime," he said.
Besides, he said that there was no provision in law providing for someone arrest under his whims.
Chamkani, on the other hand, was of the view that Pakistan Penal Code and Code of Criminal Procedure have laid down a proper procedure for jailing a person.
He said that police was empowered under the law to lodge FIR against a person in case of breaking the law. Chamkani said that an accused has to be presented before magistrate within 24 hours of his arrest and requests for remand if it needs to investigate the accused. However, when there is no need for interrogation of the accused, then, the accused is send to jail for two weeks on judicial remand.
The accused, then, can apply for bail.
Chamkani said that under the section 3 of the West Pakistan Maintenance of Public Order Ordinance 1960, deputy commissioner is empowered to arrest people in case of law and order situation. The person arrested under the MPO could be detained for about six months.
Jail bharo tehreeks in the past
Durrani said that under the Ziaul Haq dictatorship, Movement for Restoration of Democracy (MRD) had launched the court arrest drive.
He said that PTI court arrest drive was ill-conceived strategy. He said that even under Zia no one was arrested without any crime. Some persons were arrested after breaking law and they were later released.
Lehaz Ali, a journalist said that in 1970s, some organization in Sindh had launched jail bharo tahreek against Bhutto rule. Similarly, he said that PPP did the same against the Zia's rule. Some PPP workers were detained under 3-MPO, he said. However, he said that it was not like this that 100 people will court arrests.
Lehaz said that in 1939, a similar movement was launched against the dissolution of provincial assembly. However, he said that without committing a crime, no one can be detained.
Hits: 43