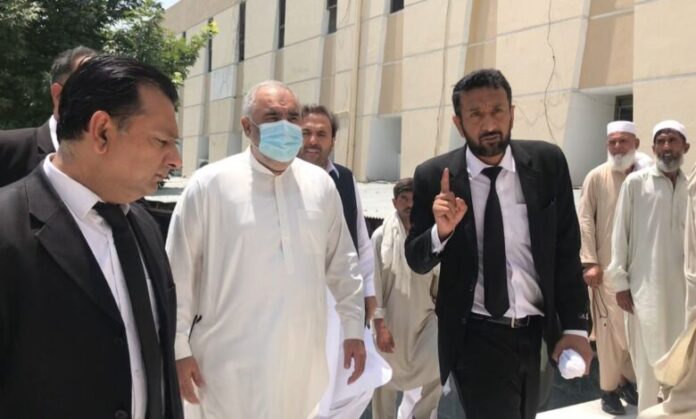 Usman Danish
Peshawar: Leader of Pakistan Tehreek-e-Insaf (PTI) and former Speaker of the National Assembly, Asad Qaiser, expressed his unwavering support for Imran Khan and reiterated his commitment to continue his political struggle within the framework of the constitution and the law.
During a conversation in the bar room of the Peshawar High Court, Asad Qaiser emphasized that appearing in court while facing cases is their legal right, and they expect justice to prevail. He expressed optimism that things will improve over time.
Referring to the inquiry initiated by the Excise Department regarding his vehicles, Asad Qaiser mentioned that some of the vehicles were purchased 12 to 13 years ago, while others were acquired 5 to 6 years ago. He appreciated the Excise Department for returning the vehicles after inspection.
Also Read: Climate Change Threatens Food Security and Fuels Mass Displacement
Furthermore, he stated his intention to take legal action against those who have spread false propaganda against him, and he will consult with lawyers to initiate appropriate measures.
Responding to speculation about the dissolution of Pakistan Tehreek-e-Insaf, Asad Qaiser dismissed such notions, emphasizing that it is merely a wishful thought. He firmly stated that the party will continue its political struggle within the bounds of the constitution and the law, as it is the right of every citizen to engage in political activities freely.
Regarding negotiations with the establishment, Asad Qaiser stressed the importance of everyone working within their constitutional roles. He expressed the party's commitment to peace in the country and reiterated his support for Imran Khan. He clarified that there are currently no negotiations taking place with the ruling coalition, Pakistan Democratic Movement (PDM).
It is worth noting that following the events of May 9, the leadership of Pakistan Tehreek-e-Insaf in Khyber Pakhtunkhwa, including Asad Qaiser, had been less visible. As a step towards facing the courts, Asad Qaiser filed an application in the Peshawar High Court today, seeking details of the cases registered against him.
Hits: 21