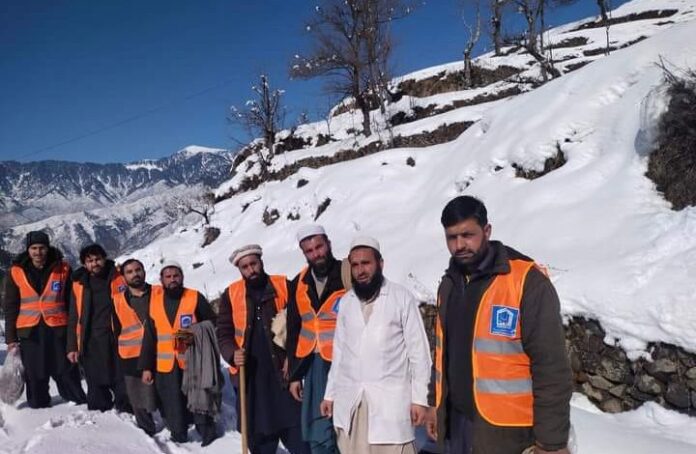 Rescuers have pulled out bodies of four persons who had perished under an avalanche in Ushirai Dara area of Upper Dir district two days ago.
Rescue 1122 said Upper Dir spokesperson said that the avalanche had buried four persons in Barkand Samsu area of Ushirai Dara area about two days ago. Two of the dead buried under the snow were recovered on Thursday; however, remaining two were recovered on Friday. A Rescue 1122 official told TNN that its disaster and medical team pulled out the remaining two bodies from beneath the avalanche that has hit them two days ago.
He said that the operation lasted two days.
Earlier locals said that the dead had gone to the forest to collect firewood, when they were trapped in an avalanche.
Two of the dead, father and son, were recovered on Friday after rescuers, levies and police personnel and volunteers of the Al-Khidmat Foundation.
Besides, rescue efforts were retrieval of remaining two bodies were under way and concluded on Friday following the rescuers pulled the bodies out of several feet deep snow.
The dead were identified as Malang Said, Sajid Khan, Israr and Muhammad Syed. They have gone to Bakand forest to collect firewood, where they were hit by an avalanche.
However, a local went to the forest on Thursday to look for them; however, could not locate them.
Suspecting that they might be trapped beneath under the avalanche, he returned to the village and made annocuments from mosque loudspeaker about four persons being trapped under the avalanche.
Following these annocuments, rescuers, police and levies personnel and Al-Khidmat Foundation volunteers rushed to the area and launched a search operation for the missing persons.
On Thursday, rescuers dug through five feet deep snow in extreme cold and pulled out two of the missing bodies.
Hits: 22