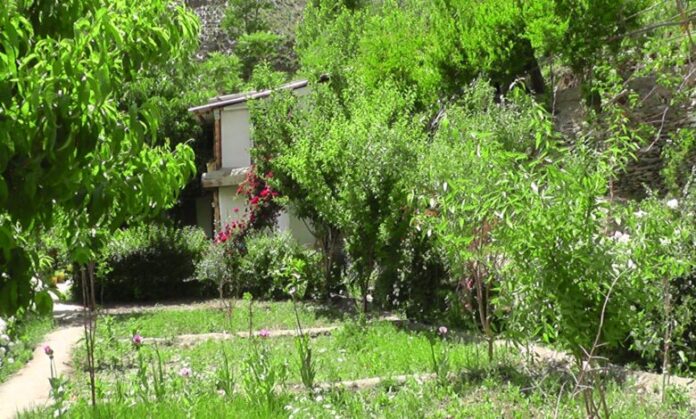 Gul Hammad Farooqi
In the beautiful Ayun Valley of Chitral, a remarkable story unfolds where a man's dedication and hard work transformed a barren mountain into a thriving forest, defying the odds of nature.
Zia-ur-Rehman, a retired individual from the Bardawish area, embarked on an extraordinary mission to breathe life into this desolate hill covering vast acres of land. For four consecutive years, he toiled tirelessly, ultimately achieving this remarkable feat.
Zia-ur-Rehman's vision for this once-barren mountain was to adorn it with a lush green cover. He planted numerous plants and trees, including 700 pomegranate trees, alongside walnut, apricot, pistachio, grape, and various fruit-bearing trees. Furthermore, a plethora of vibrant flowers was carefully cultivated, enchanting the hearts of all who visited this mesmerizing place.
Also Read: Landikotal resident grows mini-forest of 50,000 trees in 30 years
Haji Mehboob Azam, a prominent figure in Ayun, played an instrumental role in supporting Zia-ur-Rehman's endeavors. Together, they not only ensured the plantation of trees but also addressed the crucial aspect of water supply.
In collaboration with the Water Management Department, a paved channel was constructed to ensure that water reached every corner of the hill efficiently, benefiting the plants and fields. This collective effort resulted in the creation of a sustainable ecosystem thriving with life.
Now known as Ayun View Point, this location offers panoramic vistas of the entire Ayun Town. As visitors ascend to this vantage point, they are greeted by the captivating sight of vibrant green fields, dense forest trees, and a kaleidoscope of colorful flowers, leaving them awe-struck by nature's beauty.
Ayun View Point also caters to the comfort of tourists, providing a designated seating area where one can relish the ambiance enhanced by water fountains and lush greenery. Guests are even treated to a delightful selection of cherries, mulberries, and other seasonal fruits, immersing them in a sensory experience.
Maulvi Sher Ahmad, a local resident, acknowledges the efforts of the water management authorities but emphasizes the need for further development. He urges the completion of the remaining canal, highlighting its significance for the sustainable growth of the area.
Haji Mehboob Azam draws attention to ongoing projects, including the construction of an international standard Darul Uloom (religious school) and a mosque in the Bardawish area. He calls upon the provincial and federal governments, as well as relevant non-governmental organizations, to prioritize the construction of a paved road to Ayun View Point and provide essential facilities to enhance the tourism potential of the area.
Regrettably, despite the remarkable transformation achieved through four years of relentless effort, Zia-ur-Rehman and his associates have not received governmental support for their noble initiative.
You May Also Read: KP Police Targets Facilitators of May 9-10 Violence
Professor Hafeezullah, from the Department of Botany at Chitral University, recognizes the exceptional value of this alternative botanical garden. He asserts that it offers significant research opportunities for students studying botany. Professor Hafeezullah also emphasizes the need for a dedicated botanical garden at Chitral University and suggests that the Botany Department's students could utilize this transformed hill for their research endeavors.
According to Professor Hafeezullah, if every Pakistani contributes to similar initiatives and influential individuals lend their support in reclaiming barren lands for cultivation, the region's greenery, an abundance of fruits, and blossoming flowers will not only enhance its beauty but also help alleviate poverty by promoting tourism.
He further explains that such endeavors have the added advantage of controlling deforestation and combating the adverse effects of climate change, which remains a pressing global concern, particularly for arid regions like this one.
Hits: 20