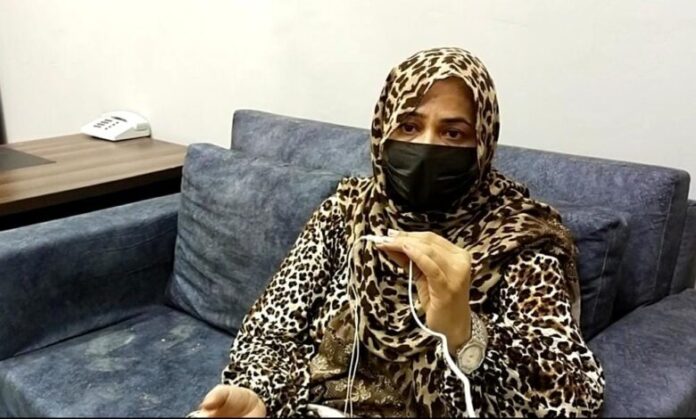 Bushra Mehsud
Saima Qamar, a poetess hailing from Dera Ismail Khan, reflects on her journey, acknowledging the initial challenges she faced. Despite the obstacles, her unwavering determination has led her to become the esteemed author of four books. Throughout her pursuit, she encountered critics, but she drew strength from the unwavering support of her family.
Saima Qamar completed her primary education in the Lal Hussain area of North Punjab and achieved a remarkable feat, receiving a gold medal for her MA in Dera Ismail Khan. Beyond her four published books, she has achieved a significant milestone in the literary history of Dera Ismail Khan. Her collection of poems boasts the distinction of being the first in the region to have an English translation published in neighboring India.
In a candid conversation with TNN, Saima Qamar shares her ongoing academic journey as she pursues an MPhil. For her, reading and writing are as vital as oxygen. Her passion for literature runs deep in her blood. Her family's literary background and the literary atmosphere in her home naturally steered her towards writing. Early on, she dabbled in crafting short stories, yet these stories remained concealed from the public eye due to her devotion to her studies.
Also Read: Terrorist Assault on Oil and Gas Company in Dera Claims Lives of Two Security Personnel
Saima Qamar extends her gratitude to Dr. Riaz Majeed, the driving force behind her four published books. Encouraged by Dr. Majeed, she released her first book, "Mujhe Baran Mein Jana Hai" (I Need to Walk in the Rain), a collection of poems and sonnets. The second book, "Qaraz Hai Mitti Ka," is a compilation of poems, while the third, "Hussain Ki Kehkeshan Hai Karbala," is an expression of her poetic talents. Her fourth book, "Dua k Ruth Par" (On the Chariot of Prayer), adds to her poetic legacy with its captivating collection of poems.
Saima Qamar's academic journey includes a study of renowned poets such as Mirza Ghalib, Allama Iqbal, Mir Taqi Mir, Mir Anis, Faiz Ahmad Faiz, Ahmad Faraz, and contemporary poets Dr. Waheed Ahmad, Ali Akbar Natey, and Sarmad Sarosh.
Her books have received acclaim for their impact and reach, notably with the English translation of her fourth book, "Dua k Ruth Par," being published in India. Alongside her literary achievements, she juggles various commitments. In addition to her household responsibilities, she dedicates her time to teaching in a private school.
Saima Qamar firmly believes that every individual possesses exceptional abilities bestowed by Allah. These talents enable individuals not only to carve a name for themselves but also to contribute significantly to the development of their nation and country. She anticipates a positive reception for her two upcoming books, currently in the printing process.
Poet Sarmad Sarosh offers a profound perspective on Saima Qamar's collection of poems, "Dua k Ruth Par," which he has been studying for nearly a year. Impressed by her exceptional talents, Sarmad praises her unique style and versatility. Saima Qamar adeptly employs both structured and free verse in her poetry, successfully conveying her thoughts through both mediums. Her poetry spans a wide range of themes, with religion and historical events occupying a significant portion of her work. These poems are not only expressions of devotion but also transcend this, taking on the hues of resistance against oppression and darkness. This theme of resistance is evident in many of her poems, with "Jungle May Awaz" (Voice in the Jungle) standing as a key piece:
"I used to tell them to kill me
But you should not incarcerate my eyes
I used to say, I have seen a dream
Where good souls were crying a lot over the black corpses."
Saima Qamar's poetry transcends religious divides and speaks to her universal outlook. Her poems reflect her deep lament for the fading cultural diversity in India and her earnest desire for inter-religious harmony.
In one of her poems, titled "Muhajir," she beautifully expresses her love and nostalgia for her ancestral village:
"I love my Grand Ma
I look at her empty eyes
So I think Where has it gone?
The cool fresh water,
Chirping birds were swinging on the tree branches
Young branches drooping with fruit
She used to play with thousands of flowers growing on the ground
For example, Heaven was my village
My feet were decorated with piles of Containers full of many treasures
Sikh Muslims and Hindus lived in this one village
They do not slander, nor kill, nor do they issue fatwas of disbelief"
This poem illustrates her affection for her ancestral village, where people of different religions coexisted peacefully, fostering an environment of mutual respect and harmony.
Poet Sarmad Sarosh lauds Saima Qamar's ability to capture the essence of contemporary life in her poems. He identifies several of her works, including "Dua," "Sukhanwar," "Muhajir," "Behesht Ghadeer," "Oont parast Log" (Camel Worshipers), "Taboot e Sakina," "Waseeyat" (Will), and "Aagahee ka Azaab" (The Curse of Knowledge), as exemplars of modern poetry.
One of her poems, titled "Prayer," portrays the imagery of a girl on a prayer chariot. This poignant poem delves into the theme of faith, exploring the contrast between the barren world and the fervent hope of a girl riding the chariot of prayer:
"A girl riding a prayer chariot to your eyes
Why believe in miracles?
The land is barren
Heavens locked
The new ones are helpless
Desire is empty
A girl riding a prayer chariot
There is no firefly or song in your destiny
No irony or metaphor
Sad and helpless eyes on henna-burdened palms
The letter sees destiny
Questioning eyes ask this?
The happy-looking, happy-voiced birds of loving eyes Life will settle again on the tree burdened with gills
A loving scripture Will land on the heart?
A girl riding a prayer chariot
Doubt can turn into faith?
At any miraculous hour
Can she fit in her fist?"
Saima Qamar's poetry explores profound themes, seeking to inspire thought, reflection, and empathy.