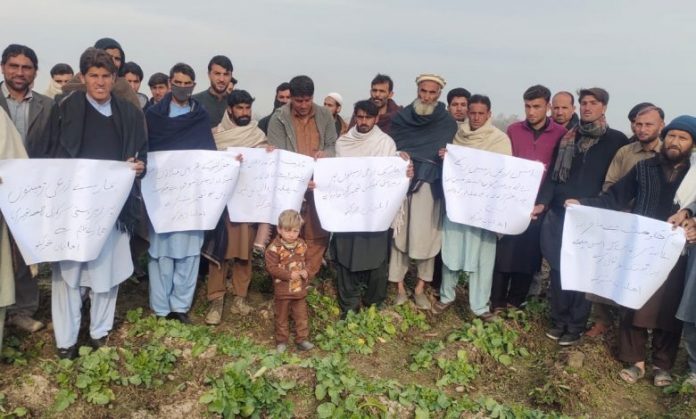 Muhammad Bilal Yasir
Tribesmen of Salarzai tehsil of Bajaur district are protesting against government plans to construct judicial complex, prison and police lines on their agricultural properties on Kharknano area.
Kharkano area is located in the south of Salarzai tehsil and an agricultural area and majority of locals are associated with vegetable farming. There are large vegetable farms in this area and many of the farmers grow potatoes, tomatoes, wheat, barley, maize, cauliflower, bell peppers, onions and sunflowers. Similarly, locals have also started growing saffron at large scale.
On the other hand, Bajuar district which is a landlocked district has only 40 percent of its area is cultivable.
Local tribesmen said that they have been warned by local police and administration on several occasions to vacate their land to allow authorities to start construction of government buildings. Mian Siraj, a local told TNN that they these properties have been owned by them by since time immemorial and now authorities were demanding them to give the authorities with 750 kanals of lands for construction of government buildings.
He said that close to the agricultural lands, there were large tracts of barren lands available which could be put to use for government buildings. Besides, he said that a Peshawar High Court has also issued directions sometimes ago regarding avoiding utilizing agricultural lands for construction of government buildings.
On the other hand, Bajaur and many other parts of merged districts are witnessing a boom of construction activities following the Fata merger of 2018. Government has extended courts and police to merged districts and the newly extended government departments also need buildings to continue their operations in the region.
Earlier on February 15, 2022, a PHC bench while addressing the petition of a resident of Swabi had directed the authorities to utilize barren lands for the purpose of government construction instead of agricultural properties when public was opposed to give its land.
Mian Imran, another villager said that they were living in their village for past two centuries. "We own this land and about 50 farmers work with us and most of these lands grow vegetables," he said.
He said that they will approach court as local administration was not ready to listen to their grievances.
On the other Deputy Commissioner Bajaur did not respond to request for comments on the subject.
Local nazim Haji Syed Badhsah also opposed the plans and said that he will never allow administration to capture public lands. He said that there were barren lands available in the area and the authorities could utilize them to avoid wasting agricultural lands.
Haji said that he was in contact with authorities to address this issue.
On the other hand, locals demanded to discourage the trend of using the agricultural lands for setting up housing societies so as to not damage the environment.
"Protection of agricultural properties should be priority of government and federal and provincial governments have chalk out a comprehensive strategy," they said.
They added failure to do so will result in major issues in future.
Hits: 65