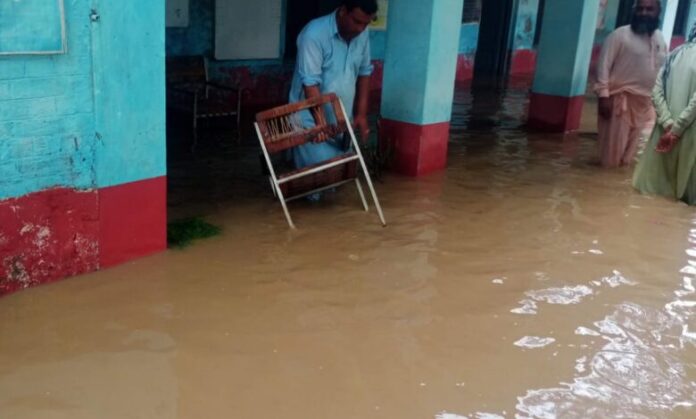 Zeeshan Azam Kakakhel
School principal Saqib Tanveer and many others like him are facing predicament of declining number of students following the floods.
Saqib Tanveer, 54 is the principal of Government Higher Secondary School for boys Shorkot Dera Ismail Khan, for past three years. The said school had still not recovered from the impact of 2010 floods, when it building was washed away in last year floods. In 2010, this school, located in low lying area had lost two its room to the deluge but last year eight of its rooms were destroyed.
Saqib said that there were 1351 primary schools in the district including 846 male and 505 females. In addition to this, there were 201 middle schools including 123 for boys and 79 for females. Similarly, there were 132 high schools including 84 for boys and 48 for girls while 43 higher secondary schools including 39 for boys and 14 for girls.
Higher secondary schools of the district alone had 7243 students on their rolls in 2020-21 including 4992 boys and 2251 girls.
Saqib said that enrollment at his school had gone up just before the floods struck. "Three years ago there were 300 students enrolled which had jumped to 534 before the floods," he said. He said enrollment figures were going down following the floods. "It was not in wildest imaginations that a flood will wash away our school," he said.
He said that they have made makeshift arrangements to hold classes after the floods. In addition to this, he said that the students were also forced to sit on ground in the winter due to the destruction of furniture in floods.
Floods have badly affected schools
Hafiz Muhamamd, head teacher of Dab Chabak primary school told TNN that in more than six months after the damages to their school have not been repaired. He said that thousands of teachers in Kulachi and Paruva tehsils of the district forced to study in tent schools due to destruction of school buildings in the floods.
In addition to this, Hafiz said that there were sanitation and drinking water facilities at these tent schools.
He said that out of 141 destroyed male and 127 female schools of district, 50 male and 20 female schools have been set up in tents," he said.
Abdul Majeed, a teacher of Syed Wali Kaacha primary school said that it will take years to rebuild the schools destroyed in floods. He said that students were forced to sit at home whenever it rained.
Shortages of funds for reconstruction of schools
On the other hand, the reconstruction of the damaged schools is likely to cost billions of rupees. However, sources in the finance department said that the province was already facing serious financial crunch, which has forced authorities to divert development funds to current budget.
1606 schools were destroyed in floods
Education department data shows that the floods destroyed 1606 schools across the province. Of this, 346 schools were fully destroyed while 1255 others were partially damaged.
In Tank district 176 schools were destroyed in floods, 151 in Upper Dir, 202 in Swat, 266 in Dera Ismail Khan and 50 each in Nowshera and Swabi.
Similarly, 53 schools were affected in Upper Chitral, 25 in Charadda, 36 in Upper and Lower Kohistan, 26 in Haripur, 23 in Battagram, 10 in Mohamand, four in Khyber and three in Bajaur.
Sources in the education department said that rehabilitation of damaged schools in most of the districts has not even started yet. They said that many of the schools in these areas were either functioning under open sky or in tents.
The sources said that due to paucity of funds, reconstruction of schools was likely to take another year. However, they said that preliminary survey has been completed by the Education Monitoring Authority; however, detailed survey was still awaited.
Government initiatives to rebuild damaged schools
Muhammad Ibrahim Khan, director primary and secondary education Khyber Pakhtunkhwa told TNN that initial survey of destroyed and partially damaged schools have been completed. He said that detailed survey was likely to take three to four months to complete. However, he said that educational activities have been restored in schools with minor damages. Besides, he said that reconstruction of completely damaged schools will be started soon.
"250 schools in 13 districts of the province will be rebuilt at the cost of Rs 300 corers," he said.
He said that survey of the schools across the province showed that 1606 schools were destroyed or damaged across the province.
Besides, he said that international organizations have also promised help in reconstruction of flood damaged schools. "World Bank and other NGOs have promised help to reconstruction of schools in Charsadda, Swat and Dera Ismail Khan districts," he said.
Besides, he said that they have also empowered the parent teachers' councils to use the funds meant for repair and maintenance for the purpose of reconstruction.
State of schools in Dera Ismail Khan district
Musarat Baloch, district education officer, Dera Ismail Khan, told TNN that reconstruction of the flood damaged schools in the district has not been started so far. However, he said that PC-1 for the reconstruction of damaged school, containing the estimates of expenditures has been prepared so far.
He said that about 200 students were enrolled in each flood damaged schools in the district and they were currently studying in tent schools.
Baloch said that education of over a 1000 students was likely to be disrupted due to damaged resulting from floods. "We have setup tent schools to avoid wastage of their academic year," he said.
Hits: 10