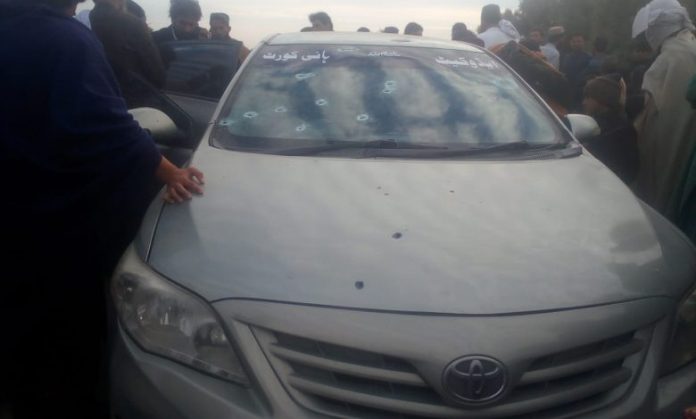 Ghulam Akbar Marwat
Dil Nawaz Kundi, a senior lawyer from southern Tank district was shot dead while two other lawyers were wounded when unknown motorcyclist opened fire on his car.
Police said that other lawyers survived the attack after the police personnel guarding the lawyers engaged the attackers.
A Tank police team headed by the DSP Alamgir chased the attackers; however, they managed to escape into a nearby forest. Police said that one of the attackers was also wounded after falling from his bike.
A spokesperson for Tank police said that the lawyers were on their way to Mullazai and Amakhel from Tank, when they were targeted near Amakhel Road near Tajuri village in the limits of the Imam Gul police station.
The firing left the prominent lawyer and chairman village council Dil Nawaz Kundi dead while two other lawyers Mustafa Marwat and Ibrar Kundi who were travelling with him were wounded. Police personnel deputed with the lawyers engaged the attackers, forcing them to flee from scene.
The injured and death were shifted to DHQ hospital Tank where the injured were provided medical treatment.
Police has not roistered FIR in the lawyer murder till the filing of this report.
On the other hand, KP Bar Council vice chairman Muhammad Ali Khan Jadoon and chairman executive council Muhammad Ilyas Khan have condemned the attack on the lawyers,
The bar council also announced a strike on Wednesday after consultation with lawyers of Bannu, Lakki Marwat, Karak and Dera Ismail Khan and lawyers will not appear before the courts in protest against the killing.
Bar council also demanded the police for immediate arrest of the lawyer's killers.
Hits: 36