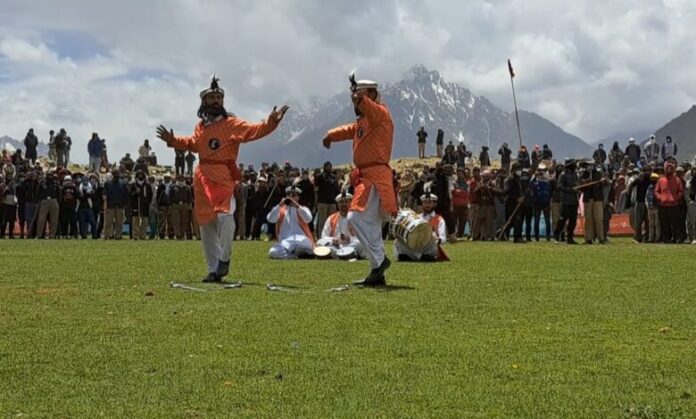 Nasar Zada
The colorful annual fair kicks off at the world's highest polo ground, Shandur. Chitral A team aims to defend their title against ten polo teams from Chitral and Gilgit. Alongside thrilling polo matches, the festival offers fireworks, regional dances, music shows, and paragliding demonstrations.
In the opening match, Upper Laspur triumphs over Lower Laspur with a score of five goals to two. Commissioner Malakand Shahidullah Khan and DJ Muhammad Bakhtiar Khan inaugurate the Shandur Polo Fair, located at 12,500 feet.
Commissioner Malakand emphasizes that months of preparation have been made to ensure a remarkable experience for tourists. The festival aims to promote tourism and showcase Pakistan as a peaceful and sports-loving nation.
Also Read: Government Allocates Funds for Various Departments in Detailed Budget Breakdown
Tourists from both domestic and foreign origins flock to Shandur to witness the annual fair. A dedicated tent village and local stalls cater to their needs. The event is supported by the Cultural and Tourism Authority of Khyber Pakhtunkhwa, District Administration Chitral Upper and Lower, Chitral Scouts, and the Pakistan Army.
John Valley, an American tourist, commends the peaceful ambiance of Shandur and the hospitable nature of Chitral's people. While the roads may not be ideal, the natural beauty compensates for it. Zaheer Khan from Karachi expresses his delight in finally attending the fair after seven years of longing. The pleasant weather and the opportunity to watch a thrilling polo match fulfilled his wishes.
In terms of historical background, the Shandur Polo Fair has been a recurring event since 1982, with a few exceptions. Polo has been played in Shandur even before Pakistan's formation, as shared by Sikandar Mulk, captain of the Chitral A polo team. Chitral has emerged victorious sixteen times, while Gilgit has won thirteen times.
Chitral's dominance is evident under the captaincy of Sikandar Mulk, including their victory against Gilgit by 10 goals to 9 goals in 2022. Polo, a freestyle game played on horseback, involves nine players in a team. Preparing the horses for the Shandur Mela takes extensive effort and considerable expenses.
A polo match involves a wooden ball and a wooden stick, with players riding their horses and aiming to score goals.
Historical Background
The polo festival in Shandur originated in 1982 and has been consistently held, barring a few years. Polo has been played in Shandur even before the formation of Pakistan. Chitral boasts sixteen victories, while Gilgit has secured thirteen.
Chitral, led by captain Sikandar Mulk, has been the most successful team, including their recent triumph over Gilgit by a score of 10 goals to 9 goals in 2022.
Hits: 9