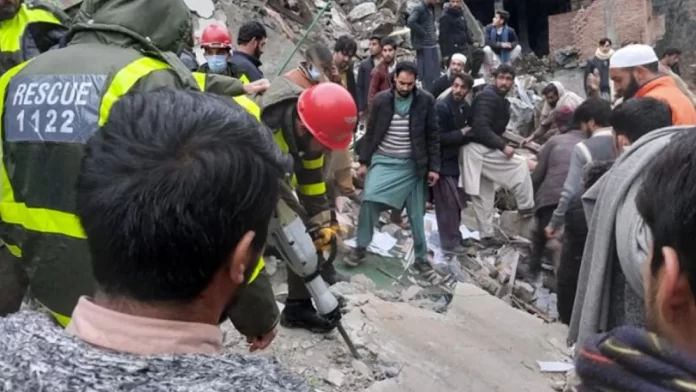 Tragedy struck in Shangla district as a devastating landslide on a cricket ground claimed the lives of at least eight children, with one child sustaining injuries.
Initially, Deputy Commissioner Shangla, Hasan Abid, reported the death of nine children, but the official count has now been confirmed as eight.
According to Hasan Abid, the children were playing on a cricket ground in the Martung area when the landslide occurred, burying them under the debris.
Also Read: PM Shehbaz Sharif Launches Multi-billion Rupee Infrastructure Projects in Tor Ghar
Rescue 1122 teams are currently engaged in rescue efforts, and an emergency has been declared in Tehsil Headquarters Hospital Puran and the Rural Health Center Martung. So far, the bodies of six children, including one girl, have been recovered, and additional bodies are being searched for using heavy machinery.
The injured girl and the recovered bodies have been transported to the Rural Health Center Martung. Local residents are actively participating in the ongoing rescue operation.
DC Hasan Abid informed that under the policy of the Khyber Pakhtunkhwa government, an amount of 500,000 rupees will be provided to the families of the deceased children, while the injured child will receive 200,000 rupees in compensation.
It is important to note that the unfortunate victims of this tragedy ranged in age from 9 to 14 years old.
It is also worth mentioning that a similar incident occurred earlier on January 12, 2022, when a house was hit by a landslide in the Shangla district, resulting in the loss of two children's lives and leaving nine other family members trapped under the rubble.
Hits: 43