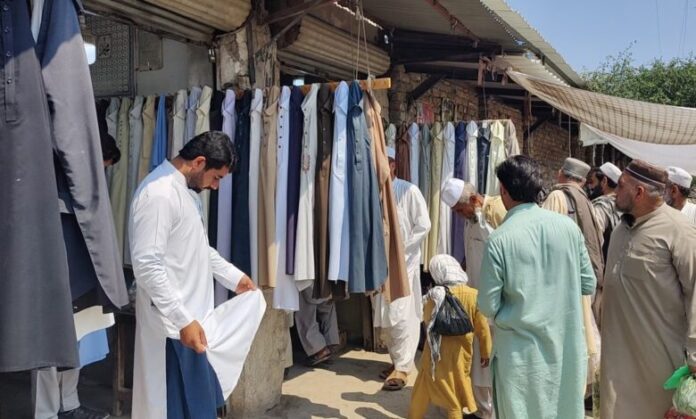 Shazia Nisar
The stitches lining the walls along the railway tracks in Peshawar aren't just fabric, but also the source of joy for the poor, orphans, and destitute who can purchase new clothes at an affordable price from these seasonal shops during Eid-ul-Fitr, a sacred religious festival for Muslims. Both the rich and the poor desire to wear new clothes during the celebration, but in today's era of inflation and poverty, many underprivileged individuals cannot afford them.
At Peshawar's Firdous railway gate, seasonal shops decorated for the occasion sell clothes at a much lower price than the allocated prices set by the city government. A large number of children, old people, youth, and especially women visit these markets to enhance the joy of Eid-ul-Fitr. Men's clothes are available in these shops for as low as Rs 150 to Rs 600, while women come here to buy tailor-made suits at a reasonable price to avoid the hassle of tailoring for their children.
Also Read: Hindu Businessman Brings Joy to Muslim Shoppers with Generous Eid Discount
Speaking to TNN, shopkeeper Haji Noor Alam, who decorated the seasonal shop, stated that all of these clothes are new, but people of the lower class purchase them here as opposed to the market where clothes cost a thousand rupees and then give them to a tailor for another thousand rupees for tailoring.
At these shops, there are clothes of various sizes and beautiful colors available for children. According to him, these clothes are sewn in the Afghan market, and shopkeepers buy and sell them here. Alam adds that the cloth used to be sold at 80 rupees per yard, but now it's sold at 140 rupees; otherwise, these clothes would have been sold at even lower prices.
Another shopkeeper in the Firdous Phatak area of Peshawar, Mehmood Khan, stated that poor citizens who cannot afford to buy clothes for their children on Eid can purchase a good suit for them here for Rs 300 to Rs 400, and they can still have a happy Eid.
Khan further explained that the same stitched clothes are sold in the shops outside for Rs 1000 to Rs 1500, but those shopkeepers have to pay rent and other expenses, whereas seasonal shops like theirs have no rent and other costs, allowing them to sell at lower prices.
Johar Ali, a 60-year-old white-bearded man with a white cap on his head and a look of worry on his forehead and curiosity in his eyes browsing through the clothes displayed on the walls, said that in times of inflation, people like him may not be able to maintain the illusion of their affluence anymore.
He explained that children are insistent on getting new clothes for Eid, and he came to the seasonal shop to buy stuff for himself and his children. He described the shops as a blessing for the poor and noted that they sell beautifully embroidered clothes.
It's worth mentioning that Firdous Phatak Bazaar provides an affordable illusion of expensive clothes for people who are struggling to make ends meet in this turbulent economic climate. By keeping in mind that orphans, destitute, and poor individuals should also be included in the joys of Eid, the celebrations could be doubled in happiness.
Overall, the seasonal shops at Peshawar's Firdous railway gate offer a glimmer of hope and joy for those who are struggling financially, providing them with an opportunity to celebrate the sacred festival with new clothes and a sense of pride.
Hits: 6