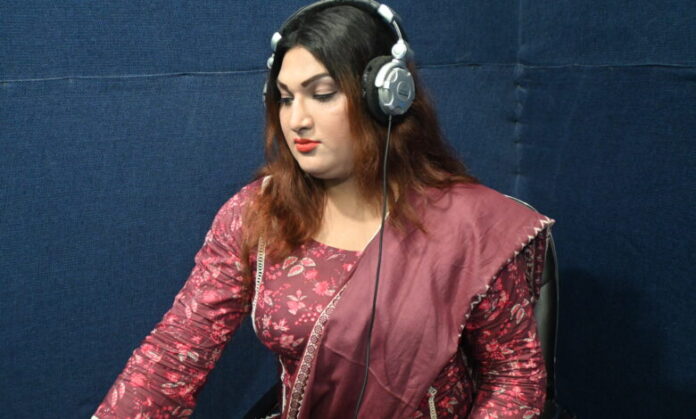 Khalida Niaz
Khyber Pakhtunkhwa's first transgender person, RJ Sobia Khan, has achieved a significant milestone by completing her BA degree. Sobia Khan has successfully passed her Bachelor of Arts from Allama Iqbal Open University with First Division.
In a conversation with TNN, Sobia Khan expressed her lifelong passion for learning, which has led to her attainment of a BA degree. Shedding light on the challenges she has faced, Sobia mentioned that the transgender community is often marginalized and faces discrimination in educational institutions, with both girls and boys hesitant to accept them.
Recalling her exam experience, Sobia shared an incident where she encountered criticism from some girls who were uncomfortable sharing an exam hall with a transgender individual.
Also Read: Assessing the Threat: Can Threads Compete with Twitter?
However, her teachers intervened and assigned her a front-row seat, ensuring she could continue her education. Despite facing numerous difficulties and hearing derogatory comments, Sobia remained resilient and determined to pursue her educational goals.
Promoting Inclusion: Transgenders in Mainstream Education
Should transgenders attend separate schools or be given the opportunity to study alongside boys and girls? Sharing her perspective, Sobia Khan strongly believes that there should not be separate schools for transgenders, as it would perpetuate the notion that they are separate from the rest of society.
Sobia aspires for transgender individuals to be accepted and embraced by society just like men and women. She questions why transgenders cannot study alongside boys and girls, as they do in private schools where they share the same desks.
Sobia Khan advocates for the inclusion of transgenders in mainstream schools, emphasizing that this would foster understanding and diminish prejudices among the younger generation. By studying together, misconceptions and biases about transgenders can be dispelled, leading to the respect and acceptance they deserve in society.
Overcoming Obstacles: Education Journey of Sobia Khan
Sobia Khan shares her challenging experiences during her educational journey. She studied up to the eighth grade in a school alongside her supportive sisters. However, when she entered high school, which was a boys' school, she faced numerous difficulties. Sobia encountered teasing, pushing, and derogatory remarks from her male classmates, affecting her ability to study. Even the teachers complained to the principal, attributing a deterioration of discipline to her presence. Despite these obstacles, Sobia's parents stood by her and advocated for her right to education, ensuring she completed her matriculation.
The challenges persisted during her FA-level studies in college, where she faced strange gazes due to her youthful appearance. Despite facing setbacks in pursuing admission to the university, Sobia remained determined, understanding the importance of education in shaping one's future and raising one's voice.
She found solace and hope when she discovered that Allama Iqbal Open University offered educational opportunities for transgenders, leading her to enroll joyfully.
Empowering Transgender Individuals
Sobia Khan's unwavering determination and resilience in the face of societal mockery exemplify her commitment to education. Despite facing ridicule while purchasing books, she remained unfazed and pursued her studies.
Sobia's aspiration is to continue her education by pursuing a master's degree in Pashto, allowing her to delve into history and advocate for transgender women. Her own struggles have motivated her to pave the way for other transgender individuals, ensuring they do not encounter the same hardships.
Sobia emphasizes the importance of education in breaking societal misconceptions and urges teachers to educate students about the existence of three genders: male, female, and transgender.
While discussions about dignified employment opportunities for transgender individuals are common, she notes the lack of implementation in both government and private sectors.
Sobia appeals to the government and relevant institutions to provide job opportunities across departments, enabling transgender individuals to secure respectable livelihoods beyond traditional roles in dancing and singing. By doing so, they can actively contribute to the development of society.
Hits: 39