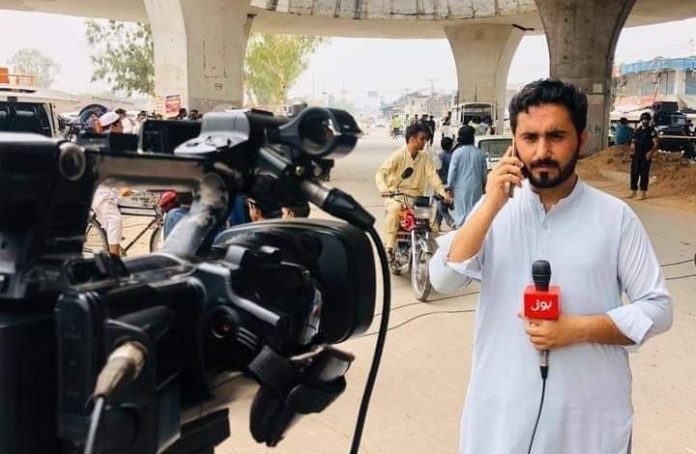 Detention of a journalist by the Jamurd police has been widely condemned on social media and journalist fraternity from across the country.
Earlier on November 1, Jamrud police had arrested Ahtesham Afridi, who works for Bol TV, Urdupoint, Pakhtunkhwa Radio, Pashto 1 TV and other news organizations.
Eyewitnesses said that the detention took place while the journalist was filming cops torturing a push cart vendor. Police personnel who were unaware of his journalistic credentials tortured him at the scene and shifted him to their private living quarters.
The reporter said that police personnel also tortured him there and locked him inside a latrine before shifting him to police lockup, where his mug shots were made. Police personnel also told him that they will charge in a criminal case.
On the other SHO, Jamrud said that reporters had torn the official dress of a police officer and they were taking legal action against him.
However, early hours of November 2, police released the reporter with charging him with a request from police officers to resolve the matter.
However, the issue then made it to social media and they not only shared Ahtesham video, explaining his position but also demanded KP police to do justice to the reporter.
Tweet about the journalist ordeal was shared by the senior journalist Hamid Mir and Urdu News editor Waseem Abbasi.
Lehaz Ali, a Peshawar based reporter also condemned the torturing of the journalist and said that this treatment was unacceptable.
He said that police employed these tactics to hide their corruption.
On the other hand, Azaz Syed, an Islamabad based reporter with Geo News asked KP police chief Moazzam Jah Ansari to provide justice to the reporter.
Mahmood Jan Babar, a senior Peshawar based journalist said that it required another police to improve the working of police department, as there was no chance of department improving on its own.
He said that empowerment of police has deteriorated the situation as they were misusing their powers.
"We stand with you against this injustice," he said.
Muhammad Faheem, an anchorperson with Mashriq TV said that torturingof journalist was yet another specimen of KP police reforms.
The reporter has in a video posted to Twitter, said that police treated him like terrorists and locked him inside a latrine after beating him up.
Hits: 89