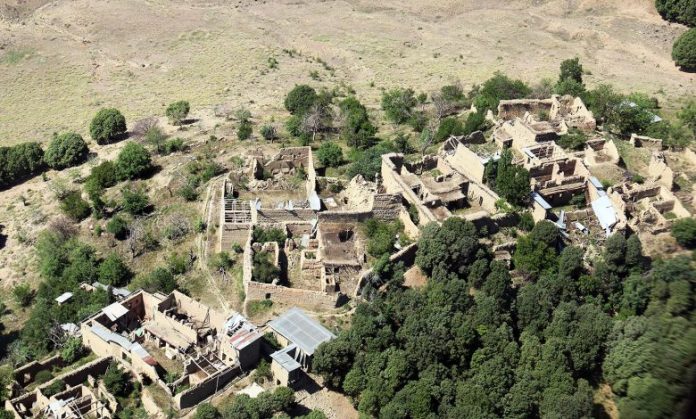 Razia Mehsud
Khyber Pakhtunkhwa government has divided the South Waziristan district into two districts along the lines of Mehsud and Ahmedzai Wazir tribes.
In this regard, KP Board of Revenue has issued notification announcing the bifurcation of the districts which stated that the district has been divided into South Waziristan Upper and Lower districts.
The notification said that the South Waziristan Upper will comprise two sub divisions  of Sarwakai and Ladha with Spinkai Raghazai as the headquarters of newly-created Upper district. Similalry, Tiarza, Serwakai, Shawal, Ladha, Makin, Shaktui and Sararogha have been made tehsils of South Waziristan Upper.
On the other hand, Wana has been declared as the headquarters of Ahmadzai Wazir tribe-dominated South Waziristan Lower district. The lower district comprises one sub-division (Wana) and four tehsils, including Wana, Shakai, Tolkhela and Birmal.
A local activist and poet Sultan Ahmed hailed the bifurcation of the districts and said that both the Mehsud and Ahmedzai Wazir tribes always engaged in a tug of war over administrative affairs of the districts.
He said that both the regions of the districts were lagging behind in development as well as facing difficulties in getting other services. In addition to this, he said that offices of district administration were located in Tank, which was located more than four kilometers hours away from Wana, which was problematic for both the tribes.
However, he said that even in case of shifting these offices to Wana, it would still have been too far away for Mehsud tribesmen.
He said that dividing the district into the two belts will provide the both tribesmen with facilities in their own areas and will end the tug of war between both tribes.
In addition to this, development funds for both districts will also help end acrimony between both tribes.
However, he said that now it has been notified and will take considerable time for its implementation.
"Bifurcation of the district into two is a really prudent step and will put the district on the pathway of development," he said.
KP Cabinet had earlier in April this year approved a proposal to divide the district into two.
Hits: 153