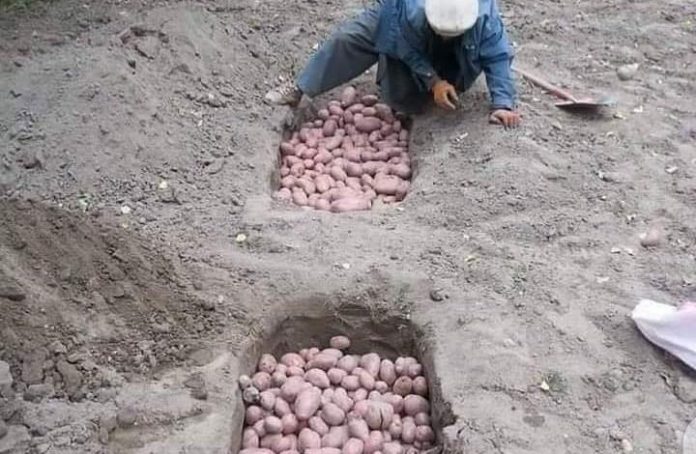 Shah Nawaz Afridi
It has been an annual ritual for Ali Mat Khan, a resident of Takhtaki locality in Tirah area of Khyber to dig up earth for storing potatoes for winter. Potatoes thus preserved last up to six months and residents of Takhtaki and other areas of Tirah have doing this since many generations.
Mr Khan told TNN that he preserves about five to six maunds of potatoes every year to last through spring. "I dig up holes in my fields and put the potatoes inside this dry hole and at times put empty flour sacks to not allow the potatoes from growing into a plant," he said.
Similarly, Mohamand, 80, a Malik Dinkhel clansman said that they have preserving potatoes this way since the times of their forefathers. At times we also preserve turnips and lentils as well, he said.  However, he said that turnips could be preserved for shorter time as it rots quickly," he said.
He said that in winters snowfall up to three feet shuts down the Tirah valley road connections with the rest of country and locals use the stored foods during this period. Tirah Maidan areas witness heavy snowfall from December till February; however, locals make preparations for this earlier in fall to last through spring.
Shafqat Khan, an agriculture field inspector from Khyber said that Tirah produced good quality potatoes and other crops. He said that they also train farmers vertical and tunnel farming and other modern techniques.
In addition to this, he said that they also provide equipment to the farmers.
Mr Shafqat said that at Akakhel Bara farm services center, there were 2160 farmers were registered with them. "We provided wheat to them on subsidized rate and last year also gave 1000 bags of potatoes to the farmer, each of them weighing about 50 kilograms," he said.
However, he said that there was no data available of Bara farmers and their landholdings. Mr Shafqat estimated that about 30,000 people were associated with farming and they have also turned hundreds of acres of land cultivable in the tehsil after restoration of peace.
He said that of this 70 acres of cultivable land was located in Tirah Nur Darra and 100 acres in Sipah area with the assistance of non-governmental organizations including Islamic Relief, Community Resilence Activity and Hujra Organizations  while they were providing technical assistance.
Erstwhile Fata Development Authority figures show that there was about 30,000 hactres of cultivable land in Khyber.
Mr Shafqat said that most of the Bara and Tirah crops depended on springs and rain water while in the plains areas most of the lands are irrigated through canals constructed by the government and they channel waters of the Bara River.
In addition to this, Upper Bara, Tor Darra, Sturikhel, Tor Wela, Sher Khel and Sipah areas have water channels while work on some others was in progress. Similry Lar Bagh Tirah, Bar Bagh, Shadlay, Takhtai, Ahmed Malik Din Khel areas were rain fed.
Yar Badshah, a vegetable seller in Bara Bazaar said that Tirah produced different types of vegetables and other crops. However, he said that Tirah's potato was of the finest quality and tasted really good and sold in local markets.
Mr Badshah said that Bara produced potato, turnips, lentils, onion and sunflower; however, the produce was unable to meet local demands, thus, they are forced to bring vegetables from Peshawar market. Regarding Tirah produce, he said that it cost them too much to carry vegetables to Bara.
On the other hand, Ali Mat Khan said that Tirah produced only a one crop a year; therefore, they choose their best fields for growing potatoes.
He said that most of the locals store large quantities of potatoes in winter including those who do not grow it but purchase it from bazaar due to its quality. Mr Ali said that they also grow sunflower, maize, turnips and lentils; however, they could not store for long. He said that mostly used manure as fertilizer in their fields
Takhtaki and other adjacent areas land connections were severed from rest of the district and the locals faced food shortages, he said.
Mr Ali demanded authorities to construct roads for connecting the area with markets. "We can grow really good crops from spring waters and area's climate was also very suitable for agriculture," he added.
Hits: 84